Durga Puja celebration by Bangladeshi diaspora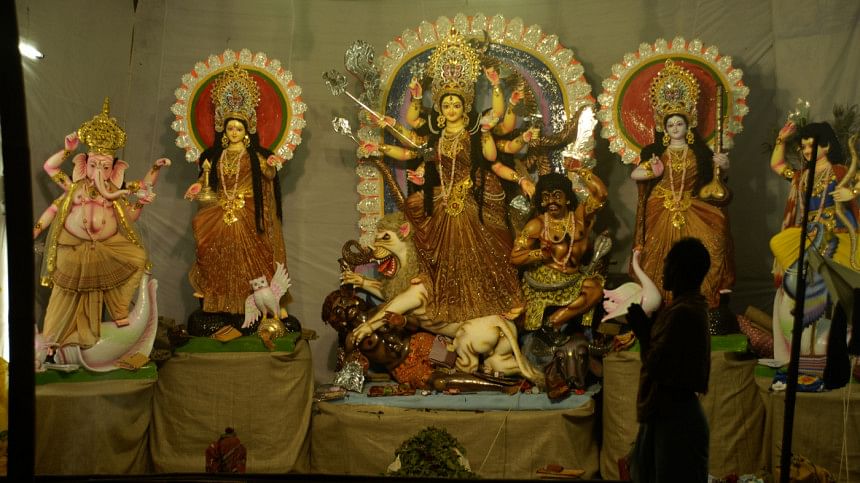 Clear azure skies, cotton-like fluffy clouds, fragrant night jasmine, and kans grass swaying to the autumnal breeze symbolise the advent of Durga Puja in Bangladesh. The Bangladeshi diaspora spread across the world miss not only the Durga Puja 'vibes' at this festive time of the year, but also their friends and family, the sound of dhaak, the smell of dhoop, the food stalls at puja mandaps, the shopping spree, and the pandal-hopping experience.
"I miss the 'puja-puja-bhaab,' which is felt in Dhaka's air at this time of the year," said Puja Karmakar, a Bangladeshi American who now calls Delaware, USA her home. "We look forward to celebrating Durga Puja every fall, but the energy, vigour, and grandiosity around the festival that you witness back home are missing here".
The festival, which symbolises the triumph of good over evil, is not an elaborate five-day affair abroad. Durga Puja organisers generally choose a weekend to celebrate the festival, as for most working people, it is not feasible to attend puja on a weekday.
"Unlike home, Durga Puja is not celebrated over a span of five days (Shashthi to Dashami)," said Joydeep Sarkar, a registered social worker (RSW), who lives in Toronto, Canada.
"Some people cannot attend the festival, even if the celebration takes place on a Saturday or Sunday, because of their workplace commitments. Puja here is so dull and routine in comparison with what we grew up watching and enjoying," Joydeep added.
However, life goes on. The Bangladeshi Hindu community living outside of Bangladesh celebrates Durga Puja in their own way. Yes, they do not sit at the table with their extended family for a scrumptious meal on Dashami afternoon, there is no family gift exchange, or pranami from elders, but the Bangladeshi expatriates still try to create the Bangladeshi puja atmosphere in their homes abroad through food and clothing, mostly through food. Bengalis are gastronomes, after all!
"Every year, I try to prepare the food that my mother cooked during Durga Puja that is pulao, rui kalia, roast chicken, mutton curry, fish fry, and prawn malaikari," Puja Karmakar said. "Payesh, moa, and laddoo, too, of course!"
In the Western nations, the festival is often held at public schools in addition to temples. Cultural performances by the local artists as well as artists from India and Bangladesh are another highlight of Durga Puja celebrations abroad.
In 2020, most Durga Puja celebrations took place virtually or with a very limited capacity in the US, the UK, and Canada. However, things look better in 2021 as these economies have opened up following successful vaccination drives. Proper health precautions are being taken as organisers ready for in-person Durga Puja celebration this year. The reverse is taking place in Australia, though, where cases have spiked in recent months.
"In 2020, we had socially-distanced Durga Puja in Sydney, but this year, Durga Puja is not taking place in person because of strict government rules and regulations to contain COVID-19," Peali C Dutta, who works as an education support officer for the Government of New South Wales in Australia, said. 
"Before the pandemic, we used to have as many as 15 puja celebrations here in Sydney, separately organised by the Hindu communities of Bangladesh and West Bengal," she said.
"However, Durga Puja is more than just offering prayers and enjoying bhog, Durga Puja celebration connects us to our roots, for the celebration venues also feature food, book, and clothing stalls, and cultural performances," she added. 
Peali Dutta hails from Khulna, which is famous for some of the most elaborate Durga Puja celebrations in Bangladesh, attracting visitors from as far off as Kolkata. "Like most expatriates, I always miss the grand Durga Puja celebrations back home," she said, her voice tinged with nostalgia.
Another thing that the Bangladeshi Hindu expatriates say that they miss out abroad during Durga Puja is the procession and emotions around Bijaya Dashami as the idol of Debi Durga is not immersed in water like it is done back home.
On this auspicious occasion, we wish the Bangladeshi diaspora celebrating the festival a safe and happy Durga Puja. May good always triumph over evil in every sphere of our lives.