Passing days in fear
Residents of 5 villages at risk as embankment collapses in Sitakunda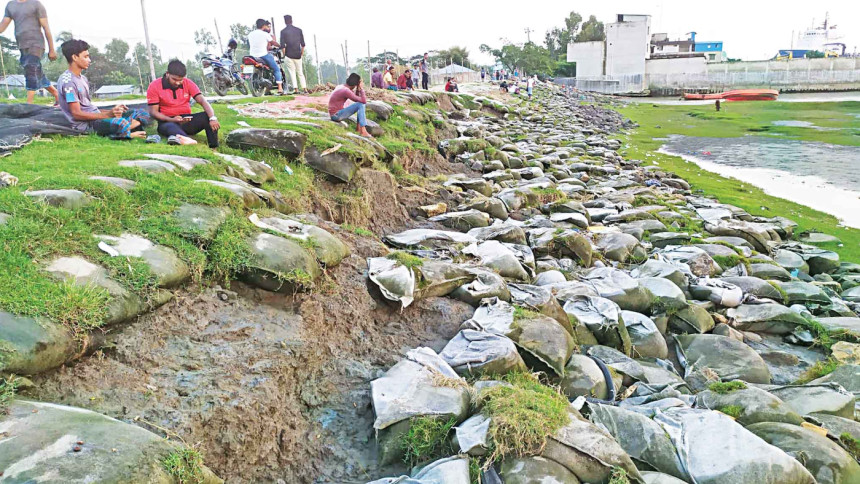 "If the embankment collapses, our crops will be submerged under the saline water"
Only two years after its reconstruction, the Ghoramora embankment in Sitakunda's Sonaichhari Union collapsed. Now, over 25,000 people in five villages are passing their days amid fear.
According to Bangladesh Water Development Board, a part of the embankment collapsed due to a heavy flow of water. However, locals pointed to substandard construction materials as the reason.
Abul Kalam, a local, said the poor quality of construction led to the collapse.
"Our village would get regularly flooded when there was no embankment. The situation changed after the embankment was constructed," said Nur Mohammed, a farmer in the village.
"If the embankment collapses, our crops will be submerged under the saline water," he added.
Residents of the five surrounding villages have demanded an immediate reconstruction of the embankment's 180 metres by putting concrete blocks. This is the only way to save their croplands from the saline water of the Bay of Bengal, they said.
BWDB claimed to have spent Tk 15 lakh to build the embankment in 2020, constructed by a Chattogram-based firm named Wizkid International.
During a recent visit to the area, this correspondent found the powerful current carrying away the geo bags deployed on the dam's seaward side. Many of these bags have been submerged in the water.
If immediate steps were not taken to repair the damaged parts, the entire embankment would be devoured by the sea, feared residents of these villages.
"A large part of the union will be at risk of being flooded due to tidal surges," Monir Ahmed, chairman of the Sonaichhari union, told this correspondent.
However, SM Tareque, sub-assistant engineer of BWDB Sitakunda zone, claimed that the project was completed properly.
"We needed to dump more materials in the water but could not do so due to a lack of funds. However, we have already sent a letter to the higher authorities asking for more funds," he said.
Md Samiun Basir, assistant professor of water resources engineering at Chittagong University of Engineering and Technology, recently told The Daily Star that the country's embankments are not sustainable for various reasons, including the use of low-quality raw materials and design defects.
"Besides, embankments collapse due to the lack of post-construction supervision as well," he added.