'Left by family, loved by all'
Two unattended babies being treated with care at CMCH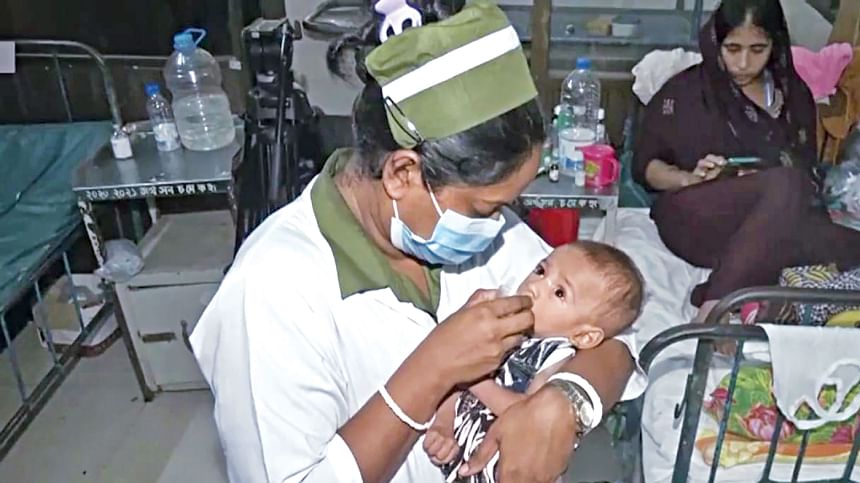 Ten-month-old Arif kept crying and gesturing to passers-by with his tiny hands, as if to look for his mother's warmth.
Since October 22, his current home has been the child healthcare department of Chattogram Medical College Hospital (CMCH).
Arif's aunt admitted him to the hospital, and then he was diagnosed with malnutrition and pneumonia.
A few days later, his aunt left him in the hospital with a letter.
"A humanitarian appeal... The parents of this kid are no more. Can anyone adopt him? I'm his aunt, but I can't look after him. I'm very poor," read the letter.
Staffers of the hospital believe the relatives left the baby fearing medical expenses. Even their addresses mentioned in the hospital documents are not properly written.
Since then, hospital staffers, doctors and nurses are taking turns looking after the child, fulfilling all his needs, including food and medicine.
Professor AKM Rezaul Karim, head of the child health department, said, "The baby is on his way to recovery. He has been suffering from pneumonia, malnutrition and other health issues."
"After his recovery, we will complete the necessary procedures to hand him over to the  authorities concerned," he added.
Soma Das, in charge of CMCH's child ward, said, "We are looking after the child round the clock with love and affection. Besides that, relatives of the other patients are also taking care of him."
Arif is not the only one receiving such adoration. Another girl child is being treated at the hospital's child surgery department, after she was found inside Panchlaish's Jatisangha Park on July 25. Locals and pedestrians rescued and brought her to CMCH.
She has birth defects on her forehead. Dr Kamal Hossen, assistant registrar of the child surgery department, said, "The on-duty doctors and nurses are currently looking after the child. We have plans to operate on the defect so that she can lead a normal life."
Nesar Foundation, which works for unidentified patients at CMCH, along with the hospital administration, has been providing food, medicine, clothes and other items for the two babies, confirmed Md Nesar, head of the foundation.