Major or university: What should you chase?
The admissions season is an absolute storm. It's a whirlwind of sleepless nights, schedules thrown into disarray, and all sorts of chaos. There's just no denying it – this is the time when everything gets turned upside down. Navigating this journey isn't a walk in the park either. We've got a boatload of options, and more often than not, we find ourselves grappling with that classic conundrum: Do we go for the prestigious university, or do we follow our heart and pick the major that truly lights our fire?
Marzia Bhuiya Tabenda, currently majoring in Mass Communication and Journalism at Dhaka University, says, "I didn't have a strong passion for any particular subject. Although I had the option to explore different majors at other universities, I ultimately chose Dhaka University due to its strong reputation. Fortunately, I found a subject that I'm content with; otherwise, I might have considered other institutions."
This is an all too familiar scenario for students who get into various public universities, the reputation of the universities compels the students to study there despite having other options to venture out.
An increasing number of students aspire to take the Bangladesh Civil Service (BCS) exams, and many opt to enrol in prestigious public universities primarily to secure better job opportunities, regardless of the alignment with their chosen majors. A student who wishes to remain anonymous, who is studying Pali and Buddhist studies at the University of Dhaka says, "I am pursuing my studies here primarily to enhance my prospects of securing better job opportunities. Given the relatively limited job prospects within my chosen major, studying here is crucial to sit for BCS."
On occasion, an unwavering passion for a particular field of study compels a student to enrol in a university that may not have been their initial preference. Smita Chowdhury, who is doing her bachelor's in Electronic and Electrical Engineering (EEE) at Ahsanullah University of Science and Technology (AUST), says, "I always wanted to work with computers and electronic devices and EEE was the right choice for me. For me, if you have a passion for a certain subject, an institution should be of secondary choice."
At times, students opt for financially prudent choices when it comes to their education. The affordability factor often becomes a significant consideration in selecting a specific major. Some students may not pursue their current major primarily because private universities represent a substantial financial commitment for the majority of families in the country.
International Business major at Dhaka University, Progga D'Rozario says, "Like most parents, my parents expected that I would attend a public university but the tuition fees along with the reputation made it a feasible and easy decision for me."
Nargis Hamid, currently pursuing a Bachelor of Business Administration (BBA) degree at North South University with the unique opportunity to pursue two majors, a choice typically unavailable at public universities, expresses, "My HSC and admission test results were very disappointing to me and my family. However, I chose the subject I wanted to study at North South University. My dedication and interest in the subject led me to higher grades and other academic achievements that I had never imagined."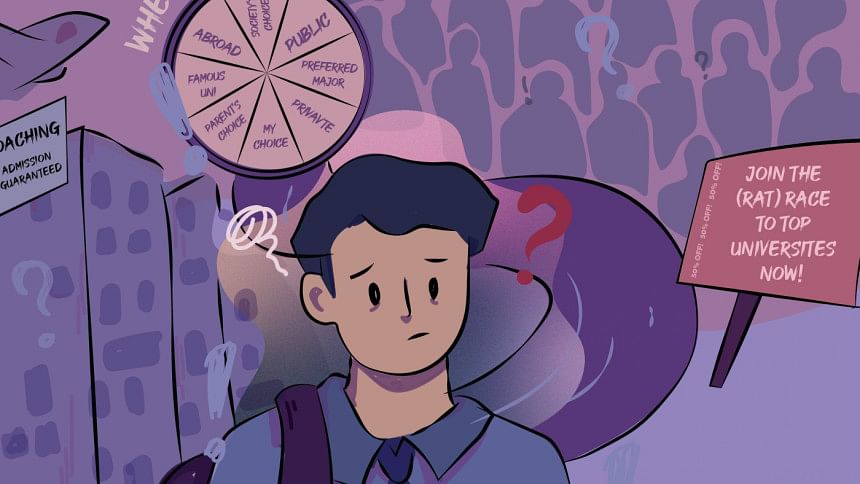 More often than not students fail to get their preferred subject at their preferred university due to the merit position system.
This inadvertently makes them either settle for the university or they choose the major they always wanted to study and that engenders personal satisfaction. Hamid further adds, "I am sure that not any other subject of any reputed institutions could let me have more achievements than this during my undergrad. However, one should definitely not ignore the quality of education and environment of an institute because the surroundings will also help you to go for more in your own field of interest."
There exists no definitive solution to this classic conundrum. Choosing a specific subject over a university's reputation often stems from a strong personal passion, financial flexibility, and career aspirations. Students prioritise the intrinsic value of their chosen field and its alignment with their long-term goals, institutional prestige is of secondary importance. Conversely, those opting for prestigious universities often benefit from a solid academic background and influential alumni networks, which broaden their job prospects and provide a sense of validation and confidence.
The decision at the end of the day, needs to rest with the student. Following the heart is important for any aspiring graduate, but if the heart is not sold on anything yet, following the path most trodden can result in good things too.
Azra Humayra is currently a journalism major at Dhaka University.