Huawei GR3 2017
WHAT IS IT
The GR3 for 2017 is known by a few other names under the Huawei banner based on where it is sold. Also known as a P8 Lite for 2017 and Honor 8 Lite.
FIRST IMPRESSION
Over time, a lot of the good stuff of the flagship phones trickle down to the budget devices. The question is: at what time does it happen? Are those tweaks that finally come down relevant any longer? The new GR3 pounces upon some of the more notable current design cues. Hold the phone in the hand and it feels comfortably hefty. The sides on initial glance appear to be metal but they are not. It's a very clever plastic construction that has a brushed metal effect. The front and back are made of 2.5D glass giving it the glamour of a device far above its price range. Being glass, it is also full of smudgy fingerprints in an instant as you stand sweating outside in the Dhaka sun.
Under the hood
Specs are on par with most other entry mid-rangers. It comes out of the box packed with Android 7.0 (Nougat) layered with the Emotion UI 5.0 which recently has been significantly streamlined. There are only the needed apps and no silly bloatware.The UI is smooth with all apps kept to a separate pane on the main screen; very iOS.
Power is provided by Kirin 655 chipset. You get octa-core processing from 2.1 GHz Cortex-A53 and 1.7 GHz Cortex-A53. The GPU is a Mali-T830MP2. This is 3GB RAM, 16GB internal memory version. Antutu scores came out to 57865. App switching is predictably quick with delays being apparent only with heavy, demanding games. Heating is also on the low side. A downside is that the onboard storage is only 16GB in an age where 16GB is like having three 'futchkas' for dinner: almost too little. The power is supported by a 3000mAh battery that provides plenty of juice to power you through the day despite that screen. In power saving mode, at 15 percent remaining, you can easily cover half a day.
DISPLAY
You would think Huawei would go for a simpler display but they opted for the sharper, better yet slightly more power hungry full HD IPS of 5.2 inches. You get 1920 x 1080 resolution at 424 PPI. Viewing angles are great and the screen legibility is bright even under direct sunlight.
CAMERA
It comes with a single 12 MP f/2.2 main rear camera. The EMUI offers the usual Huawei camera features including HDR, panorama, time-lapse, document scanning, a pro mode if you want to feel like a pro and slow-mo for videos.
The Pro mode offers the ability to keep shutters open for upto 8 seconds or as quick as 1/4000 of a second. I am pleasantly surprised with the quality of the pictures. It turns on quickly enough and takes decent shots in almost all situations. I've taken photos of pets which frankly are not at all camera friendly. Yet, a few carefully snaps will yield at least one sharp picture highlighting enough detail as apparent from the sharply outlined fur (photo samples posted online). Colours are thankfully not over saturated with greens and reds coming out quite neutral.
Grain or noise is under control in well-lit conditions. In low light indoor situations, the photos still provide enough detail without overdone software sharpening. But evening shots do suffer from a little loss of color, only to be expected.
For selfie aficionados, this is a very basic setup. There is an 8 MP f/2.0 front camera w/ wide-angle lens and a screen flash. There is no autofocus so everything shows up in-shot including the aesthetically unpleasant dustbin in the background. You can't have the camera blur is out naturally. It has basic beauty modes with up to 10 levels of adjustments so you can look like a completely different person as per social media dictates. It does a good job in daylight but will struggle a bit in low light such as inside restaurants where you want to show the V sign with a pair of chicken wings but can't. Colours end up almost always being a little muted especially in bright sunlight followed by plenty of sharpening going on.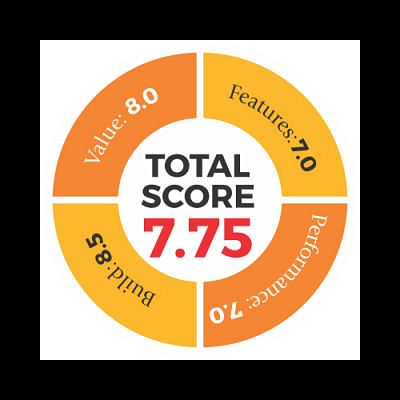 VERDICT
It has the standard, average specs of its segment, a very sharp display and form design that is stepping into the premium range. You will love the ergonomics and the subtle weight. Also slips easily into pockets. Buttons are easily accessible for one handed operation. While the rear camera is very good, the front is just barely average but will still get your Facebook needs fulfilled if supplemented with a decent photo app. But that 16GB of storage space won't last. 

Wrapping up, what you get is an affordable phone with superb styling and a balanced set of features.

Price: Tk 19,900/-