HUAWEI MATE 8: Bring on blazing fast Kirin 950 processor
FIRST IMPRESSIONS:
We just got hold of the new Mate 8 before its release in Bangladesh. All new Huawei phones have one thing in common: they look good. You want to take it out and show it around but preferably not while riding a rickshaw at night in Dhaka. The Mate 8 is big, made of metal with edges that slope sharply to create a sparkle. The back is slightly curved making operations easily manageable with one hand, unless your hands are small. Use both then.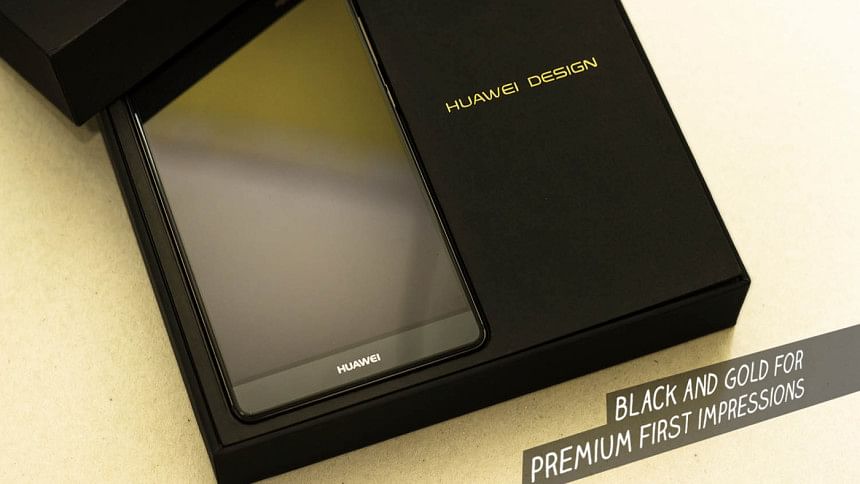 DISPLAY:
Big is in now and the Huawei won't disappoint. That massive 6 inch display with narrow bezels seem bright and sharp. Colours are rendered well and viewing angles are good even outside in sunlight. Some might say it could have been a little sharper like Huawei's own Nexus 6P. 1920x1080 pixel resolution vs the Nexus' 2560x1440. But this lower resolution doesn't impact viewing clarity and pays off big dividends in power savings.
BATTERY:
The 4000mAh battery seems to last through lunch and all the way past dinner. We've averaged 14+ hours on our video tests. Near the end, you can just switch to the excellent power saving mode that shuts down everything but the essentials. What this huge battery does is help you take selfies and Instagram your food from breakfast to dinner and a little beyond. That's saying a lot for a phone this big.
SOFTWARE:
The software is Huawei's take on Android Marshmallow. For a change Huawei is on track this time with the current OS. But Huawei doesn't simply skin it, they restructure everything often leaving a few choice things out of the bundle like an app drawer. There's none of that here. But it's nice to say 'OK Google' to get things started. The good thing is, having Android 6.0 means, hopefully, Huawei will update this device as Google rolls out updates.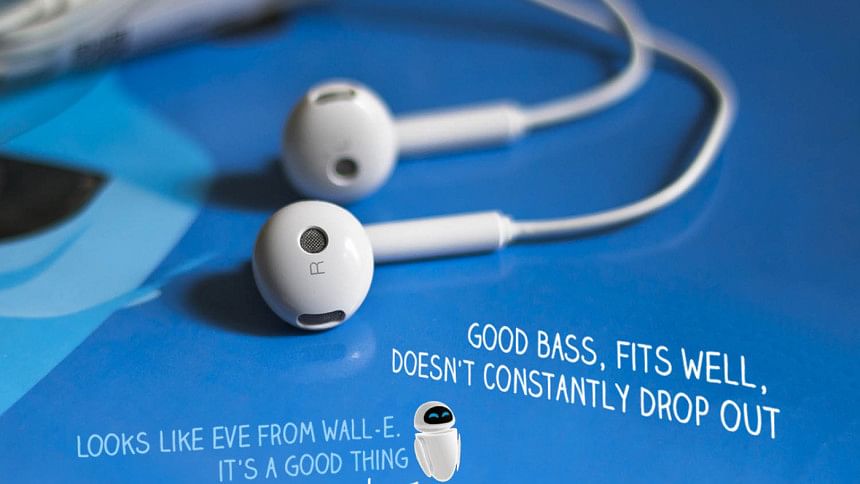 POWER:
Till further updates, this powerhouse will more than suffice. The Mate 8 is one of the first to have the ultra-powerful Cortex-A72 cores. The 64-bit chip has four 2.3GHz and four 1.8GHz cores. That's aided by 3GB of RAM that made sure this device didn't stutter at all no matter what I threw at it. I've run the most graphics intensive games available for Android, Lara Croft: Go and Real Racing 3 among others, without losing any frame rate.
CAMERA:
You get a 16MP rear camera with an f/2.0 aperture aided by optical image stabilization. There's a host of different modes with a fully manual option to allow you to alter focus, shutter speed, ISO, white balance.
You are presented with very nice photos in most light conditions especially with the 8MP front unit. But you'd want to tone down the Beauty app for the selfie shots to be posted on Facebook. No one aside from newborn babies and dolphins have skin that smooth.
Pictures are mostly full of detail but occasionally some daytime shots tend to look overexposed. Tap quickly to adjust lighting and you will get excellent photos. Video recording tops out at 1080p and 720p video at 120fps for slow-mo shots.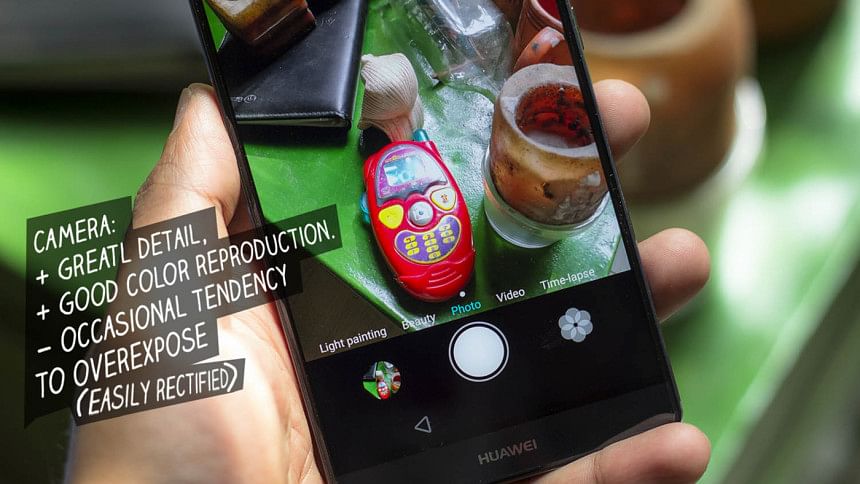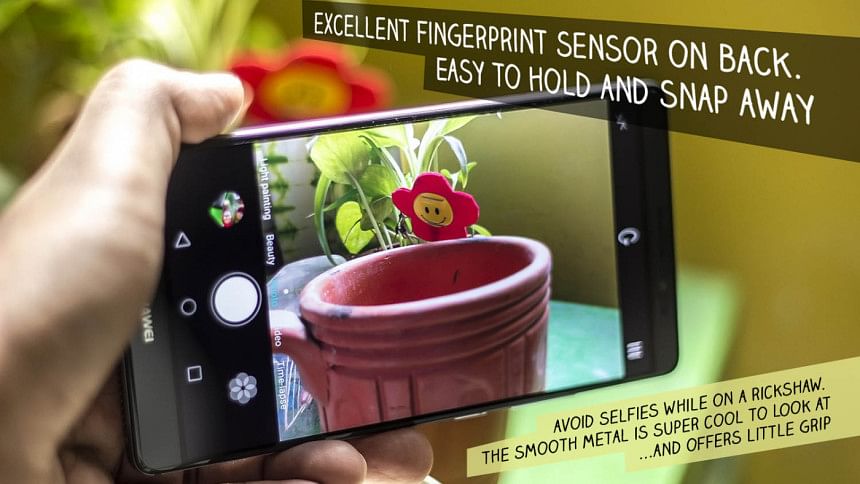 SPECS:
Display: FHD 6 inches, 1920 x 1080 (368 ppi),
CPU: Octa-core (4 x 2.3 GHz A72+ 4 x 1.8 GHz A53) + i5 co-processor
OS: Android OS 6.0
ROM: 32 GB/64 GB
RAM: 3 GB/4 GB
Camera: Rear- 16 MP, f/2.0, OIS; Front- 8 MP
Battery: 4000 mAh
Sensors: Fingerprint Sensor, G-Sensor, Gyroscope sensor, Ambient Light Sensor etc.
Price: Yet to be announced
The phone will be launched globally on 28th January, 2016 and be available in Bangladesh by the 2nd week of February.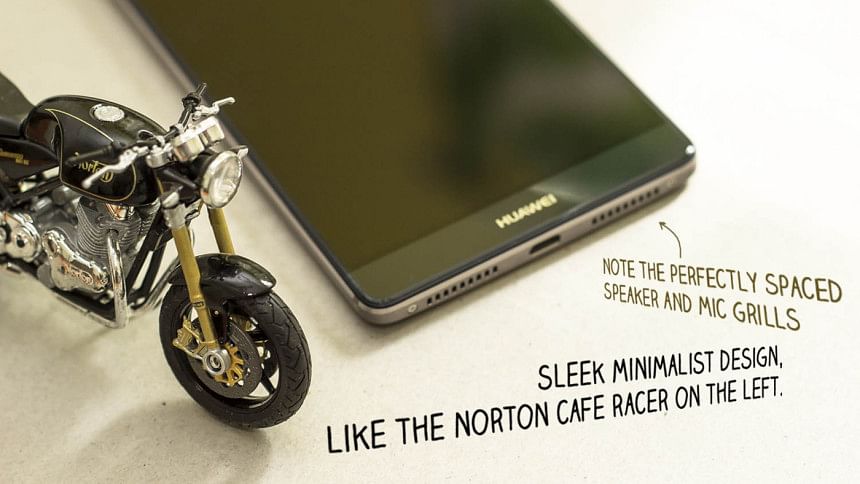 Verdict
It's big. It's also pricey compared to the competition and I wish the OS was closer to stock but the latter can be rectified with a Google Now launcher. It comes with a fingerprint sensor that is one of the best in the business. The device is a capable powerhouse that has showed little signs of wear but then again, it's aided by one of the fastest processors on the market. Add to that a long lasting battery tucked into a slim, sharp looking profile, the Mate 8 seems to be another big step forward for Huawei's  entry into the power league of smartphones.
Words and Photos:
Ehsanur Raza Ronny