Samsung S8 Review: Are you ready for this?
The S8 is a very important phone for Samsung. They were all ready to set the market on fire with the awesomeness of the last Note 7. But the market literally caught fire as the phablet proved too hot to handle. The S8 has to recover not just the goodwill but also all that lost business to Google, LG and OnePlus. So let's find out what weaponry the S8 has brought in to make it the best seller yet again. 
First impressions
The S8 is an evolution of the previous model with one big change: they have made it narrow. It is supremely comfortable to hold and even better to use when wearing formal pants. The tall, slender dimensions are perfect for holding in the palm.
For the past two weeks this phone served me in everything I needed. It worked and worked and impressed. It's the first Samsung phone I actually contemplating of owning. Yet, there are a couple of caveats.
Design
The fingerprint sensor is awkwardly placed on the back off-centre to the camera lens. You smudge the camera while hunting for the not-at-all-natural position where your finger rests. This can get annoying when I have to unlock the phone hundreds of times a day. I can alternately use the excellent face detection or the new-fangled iris scanner. But how many of you like to pick up a phone, stare at it and wait for action? Didn't think so.
Display
Then there is the bezel free glass everywhere with much of it drooping over the edges. Nervous? Yes. Wrap it up in a rubberized cover? Then the whole point of it looking so fantastic is moot. Gone. Poof. The back is glass also which makes it more worrying. It's like dating a supermodel.
The 5.8 inch display is almost bezel free. That massive yet visually compact Amoled display has a density of 507ppi, more than you can make out with your naked eye. Screen legibility in the sunlight is the best I've seen on any device yet.
The physical home button is finally gone. Having to rely on on-screen controls is perfectly natural. And in a couple of years, everybody will have forgotten about that button just like the Windows help assistant Clippy. Who? That's right.
Special features:
Bixby is a three-part assistant/utility aimed to be like Apple's Siri and Amazon's Alexa. Then there is Bixby Home similar to Google Now. It provides information updates for appointments, workout counts, news headlines, Facebook, LinkedIn and Twitter updates. Rounding it up is Bixby Vision which is a camera filter. Scan business cards or translate into 52 languages with more or less varying results. But for all this, you need to sign up for a Samsung account.
Camera
Can it make you popular on Instagram? This is one of the main reasons for buying mobile phones these days. No dual camera on this but do you really need two? The 12MP camera is consistently fantastic. Shutter lag time is negligible allowing you to snap away instantly. Double tap the power button and you can have the camera ready to shoot in 0.8 seconds consistently. Samsung finally implemented this standard Android feature.
What sets it apart from the S7 and dual lens options is the officially titled "Multi-Frame Image Processing". Here the phone captures many image with one tap and merges them for a single clear, sharp image.
Photos are crisp and accurately coloured. The dynamic range is excellent and it's coupled with a pleasing image sharpening effect. You can take them in default JPEG or RAW if you feel the need to tweak them much farther on a PC later on.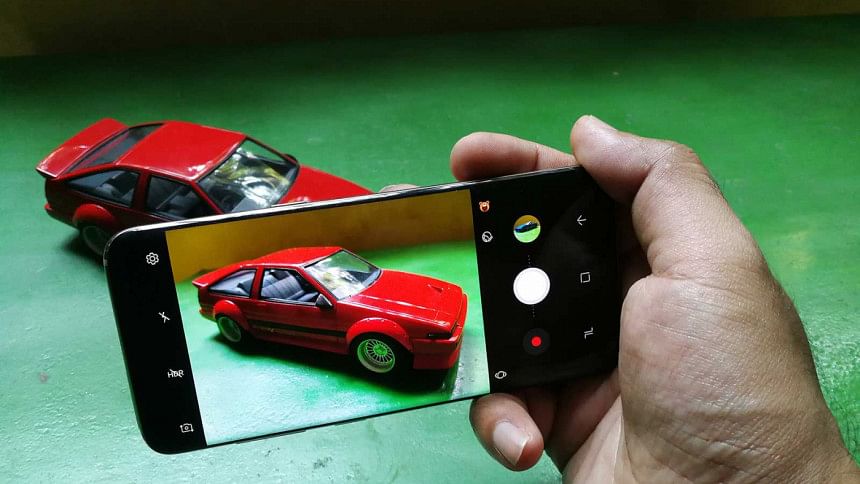 A pro mode helps you tweak the settings much more than the majority of the S8 users will attempt. But the auto setting is more than enough for most. One highlight is the Portrait option that detects a face and blurs out the background for more attention to the subject similar to the iPhone 7. Go overboard and you may end up cutting off someone's limbs and ears.
What the dual lenses on competing devices offer is better depth of field effect for portraits but frankly, the S8 manages perfectly well. Videos are shot in 1080p HD which you can move up to quad HD (1440p) at the cost of video stabilization.
Battery
Now onto the hot stuff. You may be wondering if you need to wear a fireman's outfit for using this device. Samsung hasn't provided one yet and I can assure you that while the device does get a little warm like most other phone during heavy usage, it has not set my pockets on fire. But the price will.
Battery drain tests averaged 16 hours of looped video. The S7 which had an excellent battery backup could manage that at 14.5 hours. In daily usage considering our network issues, the phone easily lasts an entire day during average use but if you play games a lot, prepare to top up once.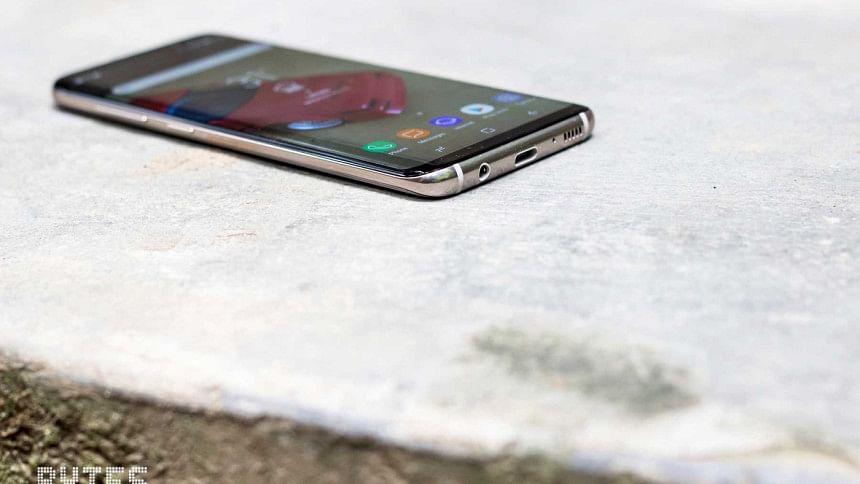 Verdict:
So is the new S8 the device to wipe away the bloopers of the past Note? Samsung has made one of the best looking phones in the market right now. It's the make-your-friends-go-jealous type. The narrow form factor is perfect for ergonomics. I never did like big wide phones like the Google Pixel or the One Plus 2. It's faster than you will ever need it to be. AnTuTu scores are 164368 for my test unit. Camera is good enough to be among the top five flagships right now. It's almost perfect except for that super annoying fingerprint sensor.
But if you are an S7 user, there is not that much performance upgrades for you to switch other than the novelty factor. It's fresh, it's cool. On the plus side, the battery fears are put to rest. Before you get one though, take the fingerprint unit on a test run. It is not a deal breaker but it can get annoying. And after you have bought it for its looks, hide it behind a cover because it is curved glass everywhere.
Other things you might want to know:
Speakers aren't all that loud but the earphones are great.
Android O update could be a long way coming. This isn't a Nexus.
Glass body super reflective (kinda cool) and at one with fingerprints (annoying but typical of glass bodies)
Water-resistant IP68 supposedly good for 3 feet of water for 30 minutes. It still works.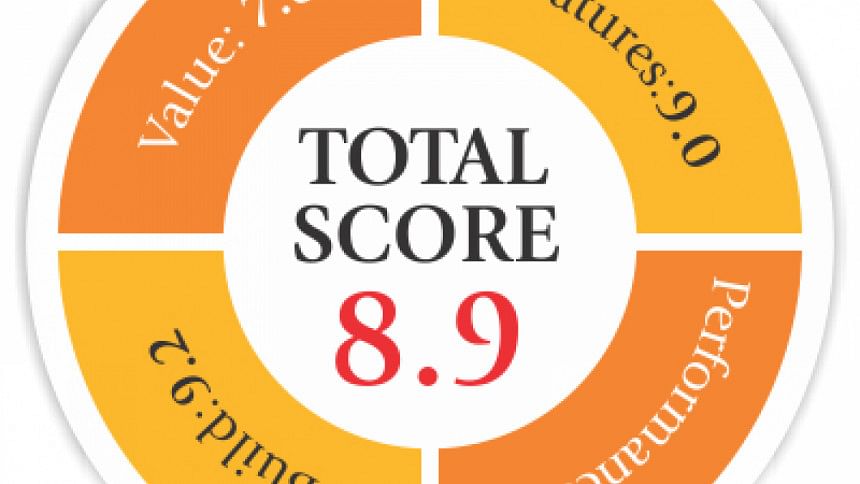 SPECS
Corning Gorilla Glass 5 front and back
Single SIM (Nano-SIM) or Dual SIM (Nano-SIM, dual stand-by)
IP68 certified - dust/water proof over 1.5 meter and 30 minutes
5.8 Super Amoled 1440 x 2960 pixels (~570 ppi pixel density)
Always-on display
OS: Android 7.0 (Nougat)
Chipset: Exynos 8895 Octacore
GPU: Mali-G71
Memory: microSD, up to 256 GB (dedicated slot) - single-SIM model
Internal: 64 GB, 4 GB RAM
Camera: 12 MP rear, f/1.7, 26mm, phase detection autofocus, OIS. 1/2.5" sensor size. Simultaneous 4K video and 9MP image recording, 2160p@30fps/1080p@60fps video.
8 MP front, f/1.7, autofocus, 1440p@30fps video.
Connectivity: Bluetooth5.0, NFC, USB 3.1 Type-C
Sensors: Iris scanner, fingerprint (rear-mounted), barometer, heart rate.
Battery: Non-removable Li-Ion 3000 mAh battery
Colours: Midnight Black, Orchid Gray, Arctic Silver, Coral Blue, Maple Gold
Price (as of May 2017) S8: 77,900 tk
S8+: 83,900 tk