Wärtsilä: 20 years of powering Bangladesh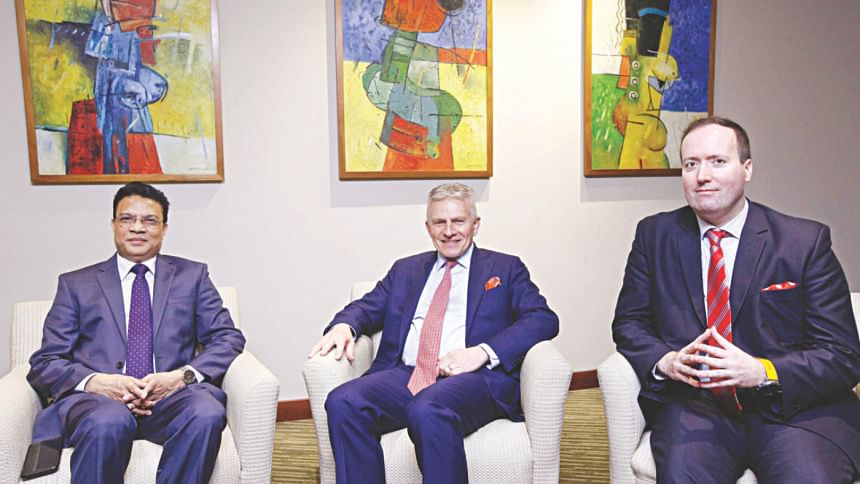 Wärtsilä, a global technology company, stands ready to help Bangladesh in its pursuit of energy security by way of liquefied natural gas, said the top executives of the Finnish company.
"As Bangladesh is investing in having gas as the source of fuel for cleaner energy, Wärtsilä is very well-positioned to facilitate that," said Javier Cavada, president for Energy Solutions of Wärtsilä Corporation.
The Bangladesh government has a solid plan to develop the energy sector, said Jaakko Eskola, president and chief executive officer of Wärtsilä Corporation.
"Bangladesh is an excellent example of how to develop the energy industry. And now when gas is coming in, it would probably give you even more (development)." Later on, the country can add renewable energy.
The two top Wärtsilä executives were in Bangladesh to mark the Finnish company's twenty years in the country. On the sidelines of the celebrations, they sat down with The Daily Star for an interview.
As the nation's economy develops, more electrical power is urgently needed to sustain the momentum.
In the past 12 months, Wärtsilä has booked orders for ten new generating facilities in Bangladesh. The latest signing came on March 14 for a 105MW power plant for Baraka Shikalbaha Power Ltd in Chittagong.
The deliveries are being made on a fast-track basis to ensure the new plants can be operational within the shortest possible timeframe.
Bangladesh's power system has evolved with time and is decentralised in many parts to meet with the growing energy need.
Decentralised energy is produced close to where it will be used rather than at a large plant elsewhere and sent through the national grid.
This local generation reduces transmission losses and lowers carbon emissions. Security of supply is increased nationally as customers do not have to share a supply or rely on relatively few, large and remote power stations.
"Decentralised power philosophy is finally taking place globally. Decentralised energy is much more beneficial to end-users," Eskola said.
Bangladesh is a great example of a market where Wärtsilä has had a long history.
In fact, Wärtsilä's energy business almost started from Bangladesh as the first sizable deal the company made back then was with Khulna Power Company Ltd. Today, Wärtsilä has operations in over 200 locations in more than 80 countries around the world.
"The biggest energy producers today in Bangladesh were born with Wärtsilä."
At that time, it was a big investment for anybody who was involved with the plant.
Eskola went on to state that Bangladesh has become a laboratory for Wärtsilä's new ideas.
"We have developed great solutions for our customers. We can't do anything in any country if we don't have the trust of our customers.  When you have that you can develop your own people and competencies," he added.
Jillur Rahim, managing director of Wärtsilä Bangladesh, said one of their main goals in the country is to develop human resources.
"We believe we have successfully done this as many of our engineers are serving in other companies within Bangladesh. This has helped serve the power sector in Bangladesh," he added.
Power generation runs parallel to the development of the economy and helps it move forward, Cavada said.
"Wärtsilä is going to be here working shoulder-to-shoulder to support Bangladesh in that journey."
Whatever technologies are needed in Bangladesh, Wärtsilä will develop its people and enhance its products to meet those needs.
Cavada went on to state that Wärtsilä is a leader in gas power generation globally and grew very strong not only in volume but also in market share last year. More than 50 percent of what the company delivered in 2017 globally was in gas.
"We have knowledge about the whole LNG infrastructure, what is needed to make the gas available all the way to power generation. We also know how to make electricity in the most efficient way."
Bangladesh needs a technology that supports energy generation not only in a clean and efficient way but also in the most economical way.
"We are enabling LNG to happen with technology. In the coming years, it will be the time of gas as it has been for the rest of the world. And going forward it will be the time for LNG for Bangladesh."
Bangladesh has not seriously started deploying renewable energy yet.
"The most important thing is, any investment we are making here today is not going to be for the next five years. It's going to be for the next 20 to 30 years. The smart technology from Wärtsilä that Bangladesh is deploying now will enable solar, wind and other renewable energies."
It is not the technology the country will have to replace when it brings in renewable energies; this technology will make the renewables very sustainable, reliable, consistent and economical. It will reduce the cost of electricity for people.
"Bangladesh's challenge today, and perhaps in the coming decade, will be to provide affordable and reliable electricity to its citizens."
Every power plant that Wärtsilä is delivering to customers in Bangladesh is a part of the Smart Power Generation system.
The system allows a power plant to run on high efficiency no matter how much power one decides to produce. As a result, the equipment is not damaged and is not affected by temperature, weather or altitude.
Wärtsilä, which started its journey in Bangladesh in 1998, provides more than 25 percent of the total grid capacity in the country.