Walton kicks off trial assembly of handsets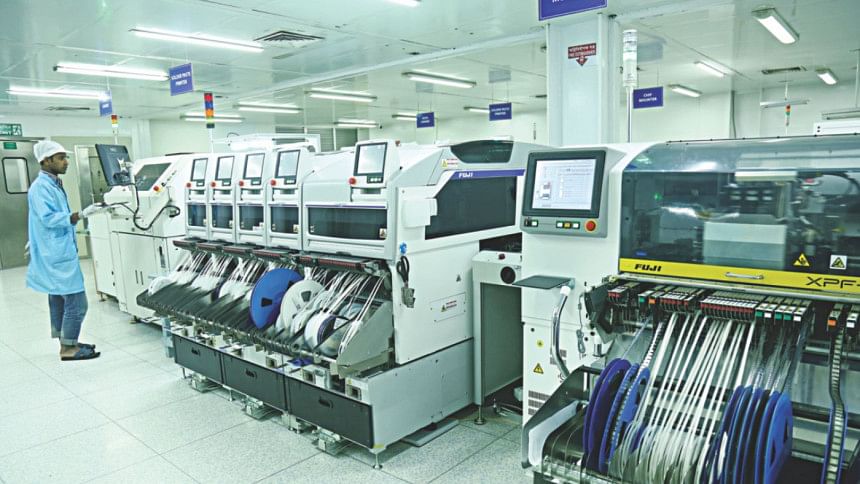 Local handset brand Walton has started assembling smartphones on a trial basis at its own plant in Gazipur with hopes of starting commercial production from the first week of October.
Customers will get the first locally assembled handsets from Walton at the end of this year, said Uday Hakim, senior operative director of Walton Group.
State Minister for Telecom Tarana Halim is scheduled to officially inaugurate the first handset plant of the country on October 5.
"Initially we planned to assemble six types of smartphones and that is undergoing a testing process," said Hakim.
The group will assemble the handsets under a company named Walton Digi Tech Ltd. An application has already been submitted to Bangladesh Telecommunication Regulatory Commission (BTRC) a couple of months ago to get a certification in this regard.
The BTRC last month issued a directive on assembling handsets locally.
Before that the government slashed customs duty for mobile components meant for local assembling by a whopping 36 percentage points to 1 percent and doubled it on handset imports to 10 percent and that also helped local entrepreneurs go for assembling plants.
With Walton, other brands like Symphony are also getting prepared in earnest to assemble mobile phones domestically, which would have the effect of substantially bringing down prices in Bangladesh.
The government said the scope to set up manufacturing or assembly plants would provide local entrepreneurs the opportunity to invest in technology, creating jobs and opening up export opportunities.
Hakim said their ultimate target was to assemble around 50 lakh handsets in a year but initially they would go a bit slow and assemble two to three lakh handsets per month.
Walton, which has put in about Tk 100 crore for the assembling plant, became the third largest importer of handsets in 2016, bringing in about 20 lakh units. The total import that year was about 3.1 crore, up 11 percent year-on-year, costing about Tk 8,000 crore, according to Bangladesh Mobile Phone Importers Association.
Hakim said they have already set up a research and development centre, which got high priority in the telecom regulator's directive. The BTRC has permitted setting up of two types of plants -- category "A" and "B".
The licence fee for a category "A" plant, which must have a modern testing lab, is Tk 50 lakh and the annual fee Tk 5 lakh. The licence fee for a category "B" plant, where a testing lab is not mandatory, is Tk 20 lakh and the annual fee Tk 2 lakh.
Both categories have to bear a 15 percent value-added tax. "Our infrastructure development is almost complete as most of our machinery has been installed and some are on the way," he added.
The local brand is giving importance to research and development in the country although they have another research and development centre in China, from where they are now importing handsets.
Around 1,000 personnel will be needed in the plant and a big number of them have been trained in China.
The company has targeted to ultimately export handsets from this plant but it wants to first meet local demand, said Hakim. Senior executives of Walton said they have already made huge investments in the television and laptop plant and machinery used there is similar to those in the handset plant.