Unfold green growth agenda
Analysts give recipe for sustainable development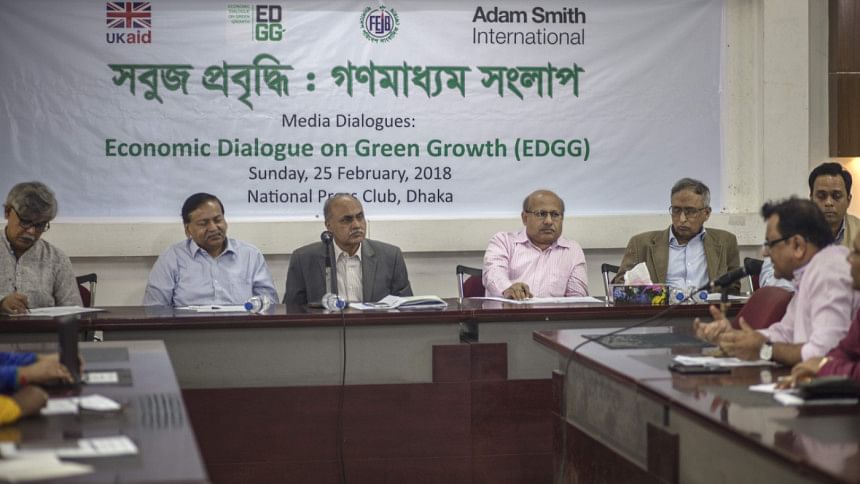 Experts and media representatives yesterday emphasised unfolding a green agenda in Bangladesh by pursuing a green growth pathway to ensure sustainable development.
They asked for using green lens in development planning and project implementation by arresting environmental pollution, recovering from ecological degradation, halting encroachment on water bodies, forests and uplands and ensuring sustainable development.
Mindless implementation of mega projects having no consideration of environmental and ecological costs will bring down the country's economic growth, they observed.
They spoke at a programme titled "Media dialogues: economic dialogue on green growth" organised by UK Aid, the Economic Dialogue on Green Growth, Adam Smith International and the Forum of Environmental Journalists of Bangladesh (FEJB) at the National Press Club in Dhaka.
Veteran environmentalist Dr Rezaul Karim who was a top UN official for several decades stressed the need for pursuing a green growth agenda in Bangladesh to put an end to the depletion of natural resources.
"We need industrialisation in an environment-friendly manner and not while degrading our fragile eco system," he said.
"We need to go for solar, wind and other renewable sources of energy discarding the current heavy dependence on coal and other fossil fuels to achieve sustainable development," said Dr Saleemul Haq, director of International Centre for Climate Change & Development.
Anisul Hoque, associate editor of Bangla daily Prothom Alo, asked for proper planning and designing infrastructural development since the nation had already paid a heavy price in terms of cost and time escalation because of faulty designs or wrong planning in some mega projects.
"We are running behind the golden deers of development by polluting almost all of our rivers and wetlands," he regretted, calling for improving inter-ministerial coordination.
Suvojit Chattopadhyay of Adam Smith International underlined the need for proper training and learning of officials and stakeholders to help unfold a green growth agenda in Bangladesh similar to that in other developing countries.
Environment Secretary Abdullah Al Mohsin Chowdhury listed different government initiatives and programmes undertaken to promote environmental conservation across the country.
He said the nation required support from all including the media to achieve sustainable development goals.
FEJB Chairman Quamrul Islam Chowdhury, chairing the event, said there were a number of success stories in Bangladesh, especially regarding climate change and environmental management, but everyone needs to move fast and scale up the best practices.
He also suggested for undertaking more research and training to help institutionalise the green growth concept in development planning, financing and implementation.
He also called for incorporating a green growth agenda in the election manifestoes of major political parties so that the media could monitor whether those pledges were kept once a party came to power. 
The dialogue was also joined by leading journalists Syed Ishtiaque Reza of Ekattor TV, Sakila Jesmin of Channel i and Shamima Chowdhury and Kazi Shahnaz of FEJB.