Tourism fair begins Thursday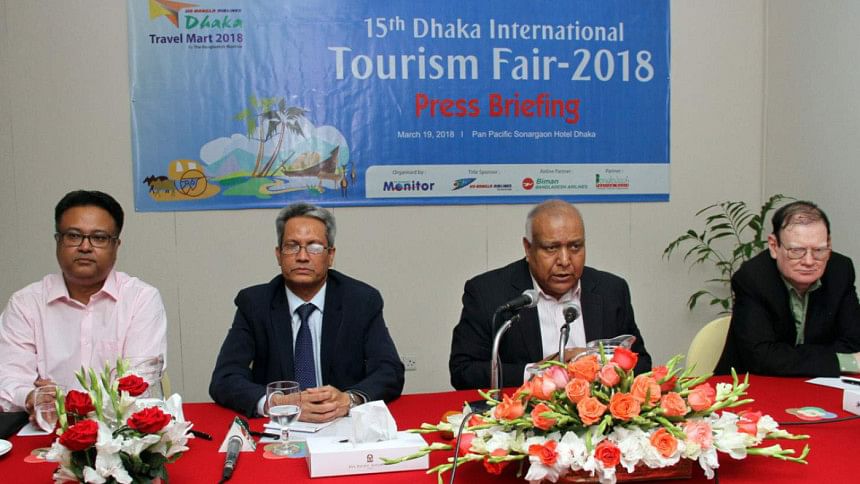 A three-day international tourism fair begins at Pan Pacific Sonargaon Dhaka on Thursday where local and international airlines, tour operators and hotels are scheduled to display and promote products and services.
The US-Bangla Airlines Dhaka Travel Mart 2018 is being organised by Bangladesh Monitor, a fortnightly publication on tourism.
AKM Shahjahan Kamal, civil aviation and tourism minister, will inaugurate it, said Kazi Wahidul Alam, chairman of the event's organising committee, at a press conference in the Sonargaon hotel yesterday.
"With a view to unlock the country's tourism potential, we launched this event 15 years back and since then we have been holding this fair as our regular annual event," said Alam, also the publication's editor.
For a sustainable tourism sector, more foreign tourists need to be attracted in different ways, said Md Nasir Uddin, CEO of Bangladesh Tourism Board.
The board and Biman Bangladesh Airlines are the event's airline partner while the US-Bangla the title sponsor.
Last year Bangladesh got about seven lakh international tourists and about 6.54 lakh in 2016, said Nasir Uddin. "Over 2.50 lakh came to Bangladesh exclusively for tourism."
The board along with Bangladesh Parjatan Corporation, Nepal Tourism Board, the Tourism Authority of Thailand and Sri Lanka Tourism Promotion Bureau are taking part along with 48 foreign organisations in five pavilions and 60 booths.
Bangladeshi airlines Biman, NovoAir, Regent Airways and US-Bangla will be there. Alam said there were 63.88 lakh international and 10.68 lakh domestic passengers flying on different routes last year helping to boost the local tourism industry.
On the concluding day, a seminar on "Prospects of riverine tourism in Bangladesh" will be organised at the hotel. The fair will stay open from 10am to 8pm for an entry fee of Tk 30.
Last year's sales of the event participants amounted to nearly Tk 3 crore and expectations are higher this year. Atique Rahman Chisty, general manager for marketing and sales at Biman, also spoke.