The art of giving
The PHP Family chairman says the meaning of his life is rooted in the spirit of giving back to society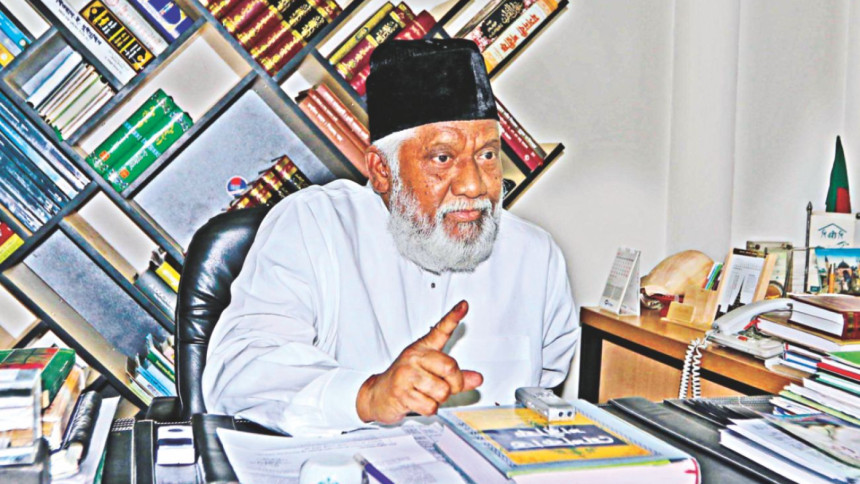 A passion for helping others developed early on in his life. Although a job holder initially, he later began his business and successfully turned it into a giant company. With time, his giving back to society grew more and more. There was no stopping to Sufi Mohammed Mizanur Rahman's passion for social responsibility.
"In fact, the spirit of living is the spirit of giving. It is the purpose of human life," said Rahman, chairman of PHP Family, one of the country's largest conglomerates, sharing his beliefs in an interview with The Daily Star.
His efforts to contribute to social welfare earned PHP recognition at the sixth Standard Chartered-Financial Express Corporate Social Responsibility Awards this year.
The group has been contributing to different sectors, including education and health sectors, by setting up schools, colleges, madrasas, a university and hospitals.
Its total CSR expenditure stood at Tk 15 crore in 2015.
Rahman is a businessman with intense moral sense and his deep religious convictions inspire him to dedicate his wealth to the welfare of society and mankind.
"The more you give, the more you will be benefitted. You will get manifold in return," said Rahman.
"But we have to start by first giving what we have. It should not be that you ask the Almighty to give you Tk 10 crore and then you will donate Tk 5 crore out of it." 
Referring to the teachings of Mother Teresa, Rahman said: "Give the world the best you have and it may never be enough. Give your best anyway."
"But if we have nothing to give, we should give distressed people a big smile."
For Rahman, the practice of giving, gratitude for abundance, good association and hard work were the secrets of his success.
Born to a pious Muslim family in Kanchan in Rupganj of Narayanganj in 1943, Rahman started his career with a private company with a monthly salary of Tk 100, after passing his intermediate exams. He later joined Sonali Bank in Chittagong in 1965 with a salary of Tk 163.
He inherited the practice of giving from his father, who always helped the distressed people in the village, he said. 
During his first job, he used to donate Tk 5 to Tk 15 every month to relatives after sending half of his salary to his father, he said.
After the country's independence, he quit his job and started a business importing commodities in bulk with a capital of Tk 1,483.
In the span of his long and lustrous journey, Rahman established 34 successful businesses in different sectors, including ship-breaking and recycling, flat and long steel, float glass, aluminium, power, textile, asphalt, petro refinery, shipping, stocks and securities, insurance, property management, news media, latex and rubber, agro, cold storage, fisheries, education and healthcare.
PHP Family's annual turnover is about Tk 4,000 crore.
As part of its CSR activities, PHP has established a 30-bed hospital 'Mount Hospital' to provide free medical treatment to its employees and another modern hospital in Rupganj.
In 2015, it donated Tk 3.6 crore to the Paediatric Intensive Care Unit of Chittagong Medical College Hospital.
The group's total contribution to construction and development of different schools and madrasas was Tk 37 crore in the last two years. It also provides Tk 18 lakh a year in scholarships to students of Asian University for Women in Chittagong.
Rahman wants to ensure habitation and transportation facilities for each of the employees of his group in his lifetime.