Mobile assembly gathers pace
Three more companies ready to roll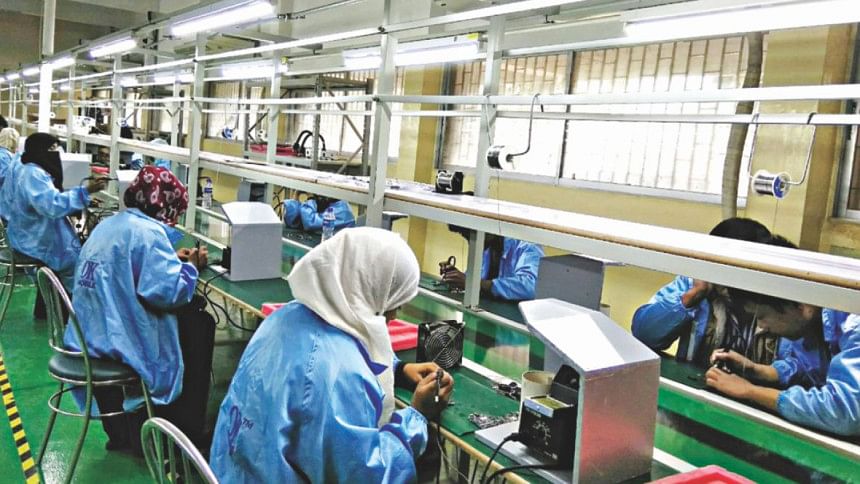 Three more local companies are in the process of rolling out their mobile assembling plants as astute players look to exploit the 14 percentage points of tax benefit being offered to log in higher sales.
The tax on handset imports is 32 percent, while the rate is 18 percent for local assembling and 13 percent for manufacturing domestically.
With the three new players -- Ok Mobile, Grameen Distribution and Anira International -- the total number of handset assembling plants in Bangladesh would hit eight, including one from South Korean giant Samsung.
In fact, OK Mobile was the first company to consider handset assembly locally, tying up with the state-owned Telephone Shilpa Sangstha (TSS) in 2014. At that time, there were no guidelines for local assembly and no tax benefits, so the plan did not progress much.
As per the deal, OK Mobile would use TSS's factory in Tongi, Gazipur for a handsome amount of royalty and 3 percent of device sales receipts.
The company will assemble OK Mobile-branded smartphones and features phones, which are due to hit the market in April, said Kazi Jasimul Islam, president of OK Mobile.
Initially, 2.5 lakh units would be assembled in a month; gradually, production would be scaled up to about 8 lakh units. 
"We have started our test run," he said, adding that OK Mobile has so far spent Tk 42 crore on the venture.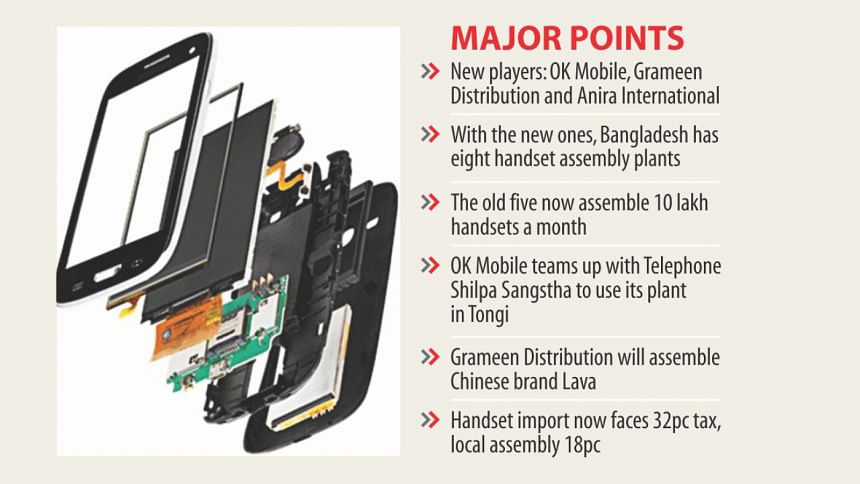 Grameen Distribution that currently imports handsets of Chinese brand Lava will soon be assembling them locally.
"We are doing moderate business in Bangladesh and when our locally assembled products hit the market next month our market size will increase," said Md Sirujul Haque, chief marketing officer of Grameen Distribution.
The company, which is doing test runs in its plant since August last year, will initially put together 70,000 smartphones a month, up from its average import of 55,000 units.
The other firm, Anira International, is almost ready to roll out its assembly chain.
The companies are shelling out Tk 57 lakh each to get the licences for three years.
The Bangladesh Telecommunication Regulatory Commission has four more applications for licence for local assembly, including those from WE and Forme, said an official of the regulator.
Local Walton was the first to get its assembly chain rolling, followed by Samsung, market leader Symphony, Chinese manufacturer Transsion Holdings and Al Amin Brothers respectively. The five plants are churning out ten lakh units a month, with the number growing rapidly.