Districts in focus
Betel nuts helping farmers make a fortune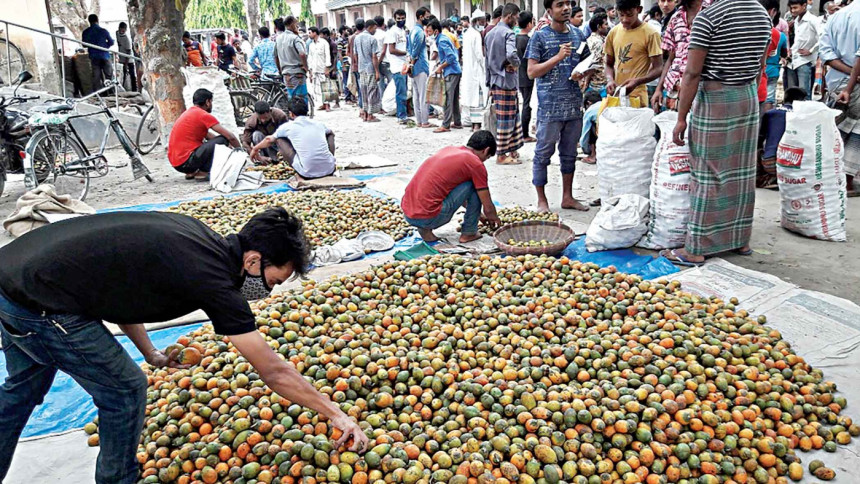 Betel nut farming has changed the luck of many farmers in Nilphamari district as the crop is more profitable than many others thanks to its nature of giving high yield with little care and handsome market price.
For its exceptionally good taste, the betel nut grown in the district has high demand among traders around the country.
While visiting different villages like Chilahati, Uttor Ketkibari, Chandkhana of Domar upazila and Dakkhin Kharibari, Gayabari, Nautara in Dimla upazila, this correspondent found big betel nut orchards occupying 2-10 acres of land.
Even rows of betel nut plants were found in almost every house yard and boundary lines of farm lands.
Betel nut was grown this year on 4,000 acres of land to produce around 5,000 tonnes of the crop, said Imran Ahmed, sub assistant agriculture officer of the district office of the Department of Agricultural Extension (DAE).
"High alluvial land is suitable for betel nut farming and this kind of soil is available in the area, which is the major reason for its acreage to see a rise."
"There are 2,200 trees in my two-acre orchard, from which I expect to get five lakh pieces of nuts and sell those at Tk 15 lakh as the peak production season is going on," said Habibur Rahman, a 50-year-old Betel nut farmer of Dakkhin Kharibari village in Dimla upazila.
Abdul Kader of Chilahati village in Domar said he has a three-acre orchard.
"Only Tk 50 is needed to take care of a betel nut tree as fertiliser and labour cost. But 320 pieces of betel nuts worth Tk 1,280 can be yielded from each tree on an average," said the 60-year-old farmer.
Around 12-15 trucks of betel nuts go to different destinations from this market in each haat day that sits on every Friday and Tuesday, said Abdul Khaleque, 65, a lessee of Dimla.
Many backward linkage industries related to betel nut farming have also been developed in the area, he said.
Betel nut harvesting begins in mid-April and it continues until the last of June, said farmer Intaj Ali of Chandkhana village in Domar.
Betel nut has emerged as a cash crop in the area and many young entrepreneurs have found it as a profitable business, said Abdul Wahed Sarker, former president of Nilphamari Chamber of Commerce and Industry.
The entrepreneurs send their produce to different locations in Dhaka, Chattogram, Bogura and other cities, which is also playing a vital role in changing the socio-economic scenario of the area, he said.
"We encourage farmers to go for crop diversification," said Abu Bakkar Siddique, deputy director of the district office of the DAE.
"With the assistance of our field staff, more farmers are now coming into betel nut production and earning more than they use to earn from traditional crops."