Pension for pvt jobholders by 2019: Muhith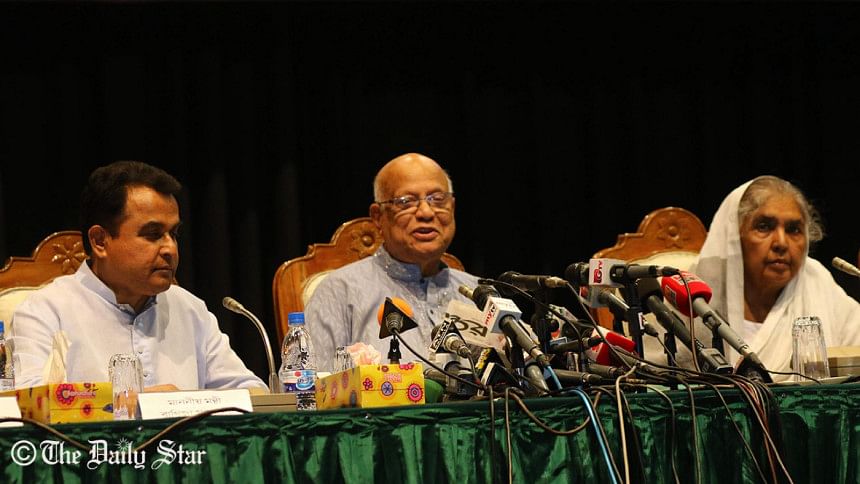 Finance Minister AMA Muhith today said the government plans to introduce pension scheme for the private sector by the end of its tenure in 2019.  
"The pension for the private sector has to be incorporated in the National Social Safety Net programme," he told reporters during the post-budget briefing at Osmani Memorial Auditorium in the capital.
He said contributory pension scheme could be introduced in the organised sector. "We are working. It will take time. However, I think we will be able to introduce the pension scheme within the tenure of the government."
He also said the reduction of fuel prices was an ongoing process after the government reduced the prices in April. "I have consulted the issue with the prime minister."
The finance minister however said the rebounding of the crude prices above $50 a barrel had to be taken into consideration.
Muhith talked about making the district budget idea a reality.
The minister made it clear that the existing rule of allowing whitening of undisclosed income by way of paying a certain fine would continue as long as the current government was in power. 
The finance minister said as Bangladesh would increasingly be integrated with the free market economy in the near future there would be no customs duty. The supplementary duties will also have to be reduced to bring them to international standards.
Commerce Minister Tofail Ahmed said the budget is pro-people given its plan to spend thousands of crores of taka for the social safety net.
"If we don't set ambitious budget how will we reach the desired goals?" he said, shrugging off criticisms from the BNP.
Tofail said the government would not allow any destruction of local industries in the name of globalisation and liberalisation. He noted when Bangladesh embraced the trade liberalisation in 1991 the country's industries were destroyed; rather they flourished.   
Planning Minister AHM Mustafa Kamal said it would not be impossible to achieve the 7.2 percent GDP target. He however said the GDP target could be achieved hinging on the per capita productivity.
Agriculture Minister Matia Chowdhury said the country has become sufficiency in food production despite squeezing land and rising population.