Collective efforts needed to ensure water security
Say speakers on Kalurghat industries marking World Water Day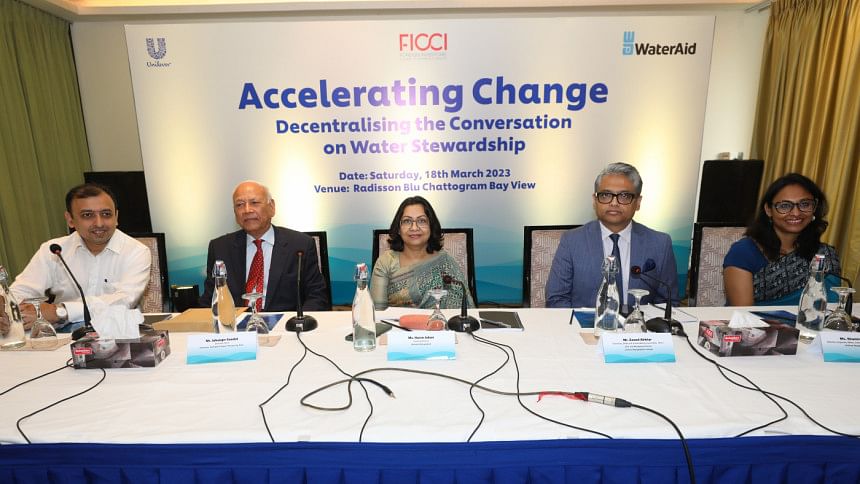 A roundtable discussion styled "Accelerating Change: Decentralising the Conversation on Water Stewardship", organised jointly by Unilever Bangladesh Ltd., Foreign Investors' Chamber of Commerce and Industry (FICCI) and WaterAid Bangladesh, was held at a hotel in Chattogram on the occasion of World Water Day 2023.
Rapid and unplanned industrialisation in the country has resulted in depletion of groundwater levels, even in the cities outside the capital. Country's commercial capital Chattogram has recorded a 20-meter decline in groundwater levels over the past 40 years. To be specific, Kalurghat industrial area is facing a number of problems caused by a severe water shortage.
To accelerate the change and start the conversation in this regard, a roundtable discussion was arranged today in alignment with this year's theme for World Water Day, which calls for expediting change and taking collective efforts to solve water crisis, said a press release.
Key discussants including Hasin Jahan, country director, WaterAid; Zaved Akhtar, managing director and chief executive officer of Unilever Bangladesh Ltd, and Jahangir Sadaat, director, FICCI, and chairman, Korean Export Processing Zone (KEPZ), took part in the roundtable discussion.
Dr Tanvir Ahmed, professor, Bangladesh University of Engineering and Technology (Buet); and Director, ITN-BUET, presented the key findings and recommendations from a rapid situation assessment of Kalurghat heavy industrial area.
Industry representatives, academicians and representatives from service-oriented public institutions were also present.
The assessment found that the industrial pollution in Chattogram especially industrial wastewater pollution is on the rise imposing serious threat to the surface water sources. Speakers recommended the Department of Environment (DoE) to increase their vigilance over industries before the water sources reach its tipping point.
Speakers underscored the need for creating scopes of collaboration among industries of Kalurghat and thinking beyond industries to ensure water security and retain water health. Meanwhile, relevant stakeholders shared industrial best practices of water management for peers.