Navana holds economic forum for 10-year strategy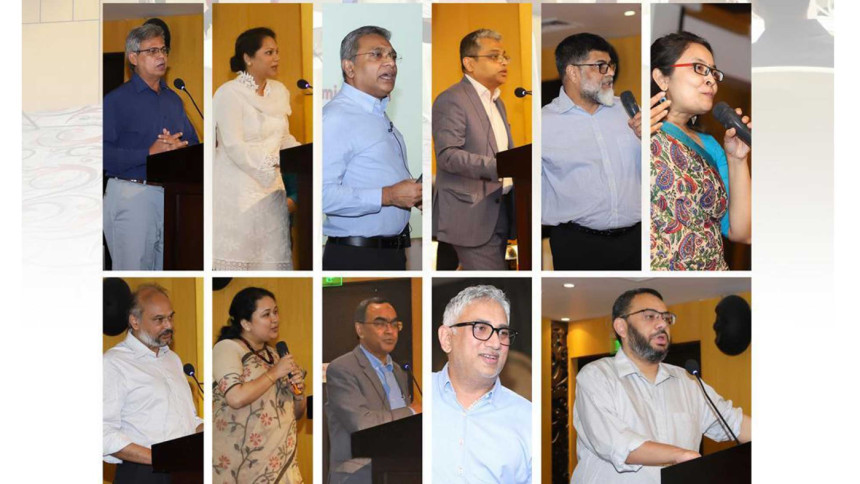 Navana Group recently organised an economic forum as a part of their greater initiative to define Navana Tomorrow, a 10-year strategy development effort for its business units.
The two-day forum was held at Hotel Amari, Dhaka on May 14-15. Industry leading experts, including academics and corporate leaders from some of the top local and multinational business houses of the country, were invited to speak at the forum to share their insightful perspectives on the future, a press release said.
The topics presented at the forum included local and global economy, banking and finance, brand management and marketing, technology and innovation, urbanization, diversity and inclusion, fair employment practices, health environment and safety, corporate social responsibility and ethics and compliance.
Wahed Azizur Rahman, group chief executive officer of Navana Group, Zaved Akhtar, managing director of Unilever Bangladesh Ltd, Yasir Azman, chief executive officer of Grameenphone, Syed Mahbubur Rahman, managing director of Mutual Trust Bank Ltd, Barrister Anita Ghazi, founder of the Legal Circle, Melita Mehjabeen, associate professor of Institute of Business Administration at the University of Dhaka, Shahinul Islam Khan, former chief town planner of Chattogram Development Authority, Rashed Al Mahmud Titumir, chairman of the department of Development Studies at the University of Dhaka, Moutushi Kabir, director for communications, learning & leadership development at Brac, Zulfikar Hyder and Saifuddin Khaled, co-founders and  partners of ZUNOKS Consulting, spoke at the forum.