Banking needs met anytime, anywhere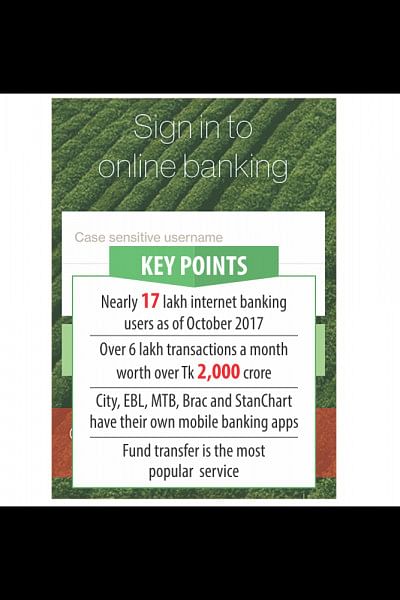 Anwarul Alam, 38, has four accounts -- two for credit cards, one loan account and another salary account -- with four different banks.
He has to pay instalments for his loan and clear off his credit card dues by the first week of the month. He also has to pay utility bills -- gas, water and electricity.
Yet, he faces no trouble in meeting these payment requirements on time. His modus operandi is internet banking, which has made standing in queues -- to withdraw one's salary, transfer money and pay utility bills and bank instalments -- redundant nowadays.
"I just need a smartphone to make all these payments. I can do them while sitting at home, in my office or even in my car," said the mid-level executive in a private company.
Hundreds of thousands like Alam nowadays are leveraging the convenience of the service, which is a boon given the typically gridlocked nature of Dhaka city and the complexities of modern lives.
Take the case of KH Shoyeb, an account holder of Standard Chartered Bank. He had an urgent need to transfer money to one of his friends at 3am, when all bank counters are well shut for the day. But thanks to internet banking he could send the money at the ungodly hour.
"It took me next to no time. I just picked up my smartphone, put into my friend's account details and hit the send button," Shoyeb said.
Presently, about 40 out of the 57 banks in Bangladesh offer the internet banking facility.
But of the 40, five -- City, EBL, Mutual Trust, Brac and Standard Chartered -- have taken the online banking service to the next level: they have rolled out an app such that the customers can access their bank accounts securely from their smartphones. As of October 2017, there are nearly 17 lakh users of internet banking, according to data from Bangladesh Bank. Of them, more than 90 percent are clients of private banks and the remaining foreign banks.
About 6.61 lakh transactions involving Tk 2,300 crore were made through the internet banking platform in October last year.
City Bank has witnessed rapid growth in its internet banking use in the last couple of years. Seeing the astronomical demand, it introduced the City Touch, a digital banking app for its consumers.
"This banking app has not just made our existing consumers more attached to our banking system, it has also helped us bring many new customers to internet banking," said Mustafizur Rahman, head of City Bank's alternative delivery channels.
According to him, City alone has transacted Tk 1,500 crore through its internet banking window, City Touch, in 2017 and the number of transactions grew by a whopping 90 percent to 10.5 lakh last year.
Fund transfer dominates the internet banking transactions, accounting for 38 percent of the transactions made last year.
City has another internet banking platform, 'i-Banking' that provides limited services, such as account summary, statement print-outs and cheque book enquiry. On this platform, the bank has about 2.5 lakh users.
Eastern Bank Limited has also introduced app-based internet banking services for its customers.
Known as EBL Skybanking, the app-based banking service can be accessed by its customers through any smartphone or tablet.
At the end of 2017, EBL has 60,000 internet banking users, while the number of Skybanking users reached 20,000.
Last year, through the two channels a total of 3.5 lakh transactions involving Tk 230 crore were made, according to Ziaul Karim, head of branding and communications of EBL.
Mutual Trust Bank is another lender that has been providing internet banking service to its customers for the last four years.
Presently, the bank has about 25,000 internet banking users who take services such as fund transfer, utility bill payment, mobile phone recharge, credit card payments and so on.
"We give internet banking services only upon request from our clients," said Rabiul Alam, head of alternative delivery channels of MTB.
A customer has to pay Tk 200-Tk 300 annually for the service, he said.
Brac Bank introduced internet banking in 2009, but its full-fledged operations were launched in 2012. The bank has now 90,000 internet banking users. The bank's app allows its users to perform all kinds of banking activities in real time.
"Fund transfer is the most popular service in internet banking," said Nazmur Rahim, Brac's head of retail banking.
The bank sees 40,000-45,000 fund transfers per month on average through the internet banking platform.
The pioneer in this field is Standard Chartered, which recently consolidated its position as the market leader by rolling out a robust smartphone app, SC Mobile Bangladesh.
Bankers said although mobile phone penetration has increased significantly, still the vast majority does not use smartphones.
They also said the high bandwidth price also needs to come down to ensure cheaper internet access.