Online fund transfer to any bank from June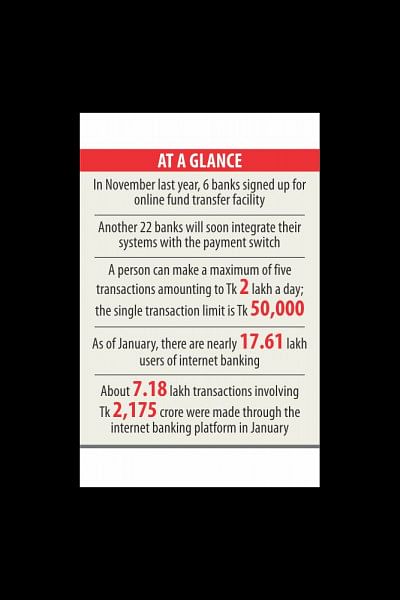 Fund transfer to any Bangladeshi bank account through online banking will become possible from June, in a development that promises to be a great timesaver for bank customers.
For that end, the central bank has asked all banks in the middle of February to connect their fund transfer channel to the National Payment Switch Bangladesh (NPSB).
In November last year, six banks -- Bank Asia, Standard Chartered, Bangladesh Commerce Bank, City, Dutch-Bangla and Midland -- signed up for the fund transfer facility through the NPSB.
Another 22 banks will soon integrate their systems with the NPSB, said a Bangladesh Bank official.
The banks that are yet to introduce internet banking will have to offer at least fund receiving facility to their clients.
Thanks to the facility, customers will be able to pay their credit card bills and make their monthly instalment payments on deposit pension schemes, loans and insurance premiums from the comforts of one's homes.
A person can make a maximum of five transactions amounting to Tk 2 lakh a day; the single transaction limit is Tk 50,000.
Customers will be informed about the transactions instantly through an SMS alert service.
As of January, there are nearly 17.61 lakh users of internet banking, according to data from the BB. Of them, more than 90 percent are clients of private banks and the remaining foreign banks.
About 7.18 lakh transactions involving Tk 2,175 crore were made through the internet banking platform in January this year.
Both the number of users of the online banking platform and the transactions will shoot after June, the BB official said.
"We have completed the testing process to integrate internet banking with the NPSB. We will connect the system in due time," said Mohammad Ali, deputy managing director of Pubali Bank.
The initiative taken up by the central bank will ultimately help build a cashless society as it will encourage e-commerce, he added.
The latest initiative will be of great convenience to customers, said Syed Mahbubur Rahman, managing director of Dhaka Bank.
But the banks should follow all cybersecurity-related compliance to avoid untoward situation, said Rahman, also the chairman of the Association of Bankers, Bangladesh, a forum of chief executives of banks.      
The central bank introduced the NPSB on December 27, 2012 with a view to upgrading inter-bank electronic payments.
The NPSB is now playing the role of a "mother switch" and it will gradually connect all "child switches" owned or shared by banks in the country.
The child switches are: automated teller machines, point of sale, electronic commerce, internet banking, mobile banking and other online banking services offered by banks.