New StanChart credit card offers savings, cash backs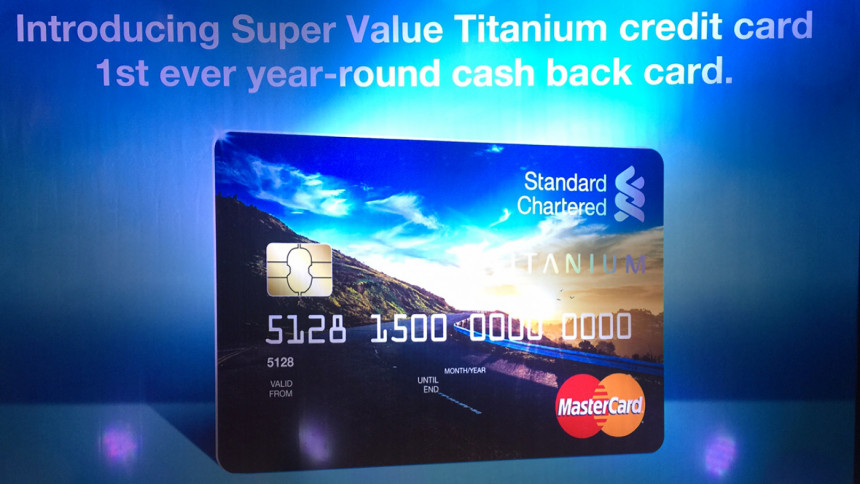 Standard Chartered has launched a new credit card in Bangladesh which will provide customers a host of attractive benefits including savings and cash-backs.
The London-headquartered British bank introduced the Standard Chartered Titanium credit card from MasterCard at a programme in Dhaka yesterday.
Every time a customer swipes the card they will get an automatic cash-back of 7.5 percent on groceries bills, 5 percent on the spending at hotels and restaurants, and 2 percent on all other purchases, including online.
In a full year, a card-holder can earn up to Tk 24,000 in cash-back with an annual fee of Tk 5,000, according to Aditya Mandloi, head of retail banking for the bank in Bangladesh.
Besides, card-holders will enjoy discounts at 15,000 merchant outlets, including hotels, restaurants, spas and medical centres in Singapore, Thailand, Indonesia, Malaysia, Hong Kong and Brunei, thanks to Standard Chartered Bangladesh's cross-border deals in those markets.
All Titanium card-holders will get free access to Balaka lounge at the airports, and will be entitled to existing discounts and facilities and an automatic insurance coverage of Tk 10 lakh.
All existing credit card holders of the bank can keep their cards and sign up for the Titanium cards at only Tk 2,000. The customers will also be able to give a Super Value Titanium supplementary card to their spouse at Tk 1,000 which also carries all the benefits.
StanChart Bangladesh has 110,000 credit card-holders, with 23 percent market share on the cards outstanding, said Aditya Mandloi.