YouTube viewership soars upon 4G rollout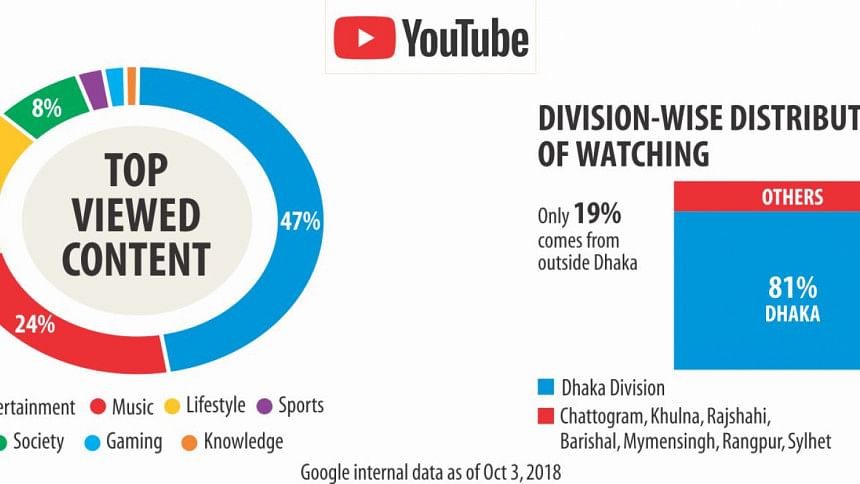 The Bangladeshi YouTube channels saw a spike in subscription after the launch of the fourth generation (4G) mobile broadband in the country, with the youth particularly lapping up the entertainment available on the platform.
As of October, viewership of the Google-owned video-sharing platform in Bangladesh has grown 64 percent year-on-year to 2.94 crore, according to Google's internal data report.
YouTube has counted their viewers through the unique Internet Protocol addresses.
Some 47 percent of the Bangladeshi YouTube viewers enjoy entertainment on the platform, 24 percent listens to music and 17 percent watches lifestyle content, according to the report.
The growth in viewership has been driven by youth: 28 percent are between the ages of 18 to 24 and 23 percent between 25 and 34 years of age. Some 11 percent of the viewers are between 35 to 44 years of age.
Five Indian YouTube channels -- Colors TV, T-Series, SET India, Zee Bangla and Sony AATH -- are the most viewed in Bangladesh.
Among the Bangladeshi YouTube channels, NTV Natok is in top position, followed by Rtv Drama.
"YouTube has changed the internet usage patterns," said Shahed Alam, head of corporate and regulatory affairs at Robi.
Data consumption and video streaming have soared in Bangladesh. "This has helped in the digitisation process."
Of the total internet bandwidth in the country, 46 percent goes towards watching YouTube and 17 percent towards browsing Facebook, according to Alam.
A few thousand YouTubers are now developing content for their own channels, according to Khandaker Fakaruddin Ahmed, head of NTV Online.
"It is their main earning source," he said, adding that the market is growing by the day.
The Bangladeshi content on YouTube can mostly be found in the television channels' accounts, he said, while calling for more diversity in content.
"Bangladesh's YouTube industry has just started. The market will be mature in coming days," Alam added.
Of late, people are lingering longer on YouTube and engaging more with the content, said Asif bin Azad, a content creator of a YouTube channel BhaiBrothers.
Just a year ago, Azad's channel used to get viewership of 5 lakh hours a month. Now, it is more than 20 lakh hours.
To start earning ad revenue from Google, a YouTube channel needs to have logged in 1,000 subscriptions and 4,000 hours in the past 12 months.
"Lots of YouTubers are earning using this platform in the country," Azad said, adding that rising smartphone penetration and faster mobile internet connection are propelling the growth in viewership.
Dhaka division accounts for 81 percent of the viewership, followed by Chattagram division at 8 percent.