VALENTINE'S DAY: Special offers galore for plastic money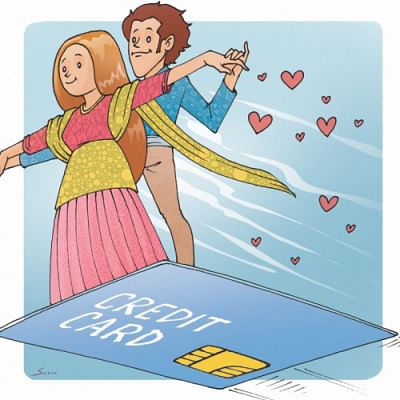 Most banks have come up with a bundle of packages to make a good business on the occasion of Valentine's Day when people go for a spending spree to celebrate the most romantic day of the year.
The special packages on the use of plastic money or credit cards include "Buy one get one free" offer, cashback, discounts on fashion and lifestyle brands and foods at restaurants.
Prime Bank, one of the country's largest private banks, along with Mastercard is offering up to 30 percent discounts at 40 restaurants and fashion outlets.
The offer started in January and will end on February 28.
"People love to spend a lot during Valentine's Day and banks will leave no stone unturned to persuade clients to use their cards for shopping," said Md Amir Hossain Majumder, head of the bank's card division.
He said the bank rolled out the offers to retain customers in the competitive market where people use four to five credit cards at a time.
"It is a challenge for banks to encourage customers to keep using their cards. That is why they offer special benefits on different occasions."
The special offers also play a huge role in bringing a change in the spending behaviour of the credit card users, Majumder said.
City Bank, which has the highest number of cards in circulation, has prepared a lot of offers for the occasion.
The bank's 14-day offer themed "share the love" started on February 1.
Customers will be able to save up to 36 percent if they use City's card for online shopping from e-commerce platforms, including daraz and chaldal as well as on products and services of jewelry shops, lifestyle brands and restaurants, according to the bank.
The bank has teamed up with paprii.com, an online flower delivery service. Clients of the bank will get 20 percent discount if they buy fresh flowers from the platform.
Mutual Trust Bank (MTB) appeared on the scene with the slogan "Unlock a World of Love". Its credit card offers started on February 1 and will end on February 16.
MTB's offers include "Buy one get one free" on dining with nine restaurants and up to 35 percent discounts on shopping with 16 lifestyle brands.
The bank announced the special offers to make the Valentine's Day celebration enjoyable for its clients, said Mohammad Anwar Hossain, head of MTB's card division.
"Another objective of the bank is to boost spending on credit cards," he said.
On every occasion, the bank announces varieties of offers on cards to increase affiliation of the customers with the bank, Hossain said.
"BOGO on this Valentine's Day" is the name of Southeast Bank's offer for its credit cardholders, said Md Abdus Sabur Khan, head of cards at the bank.
The bank has tied up with 14 posh hotels and restaurants for BOGO, which stands for Buy One Get One, he said.
In Bangladesh, the number of credit cards increased nearly 17 percent to 10.61 lakh in the 11 months to November last year, according to Bangladesh Bank data.
The monthly transaction through credit cards was above Tk 1,000 crore in November 2018.