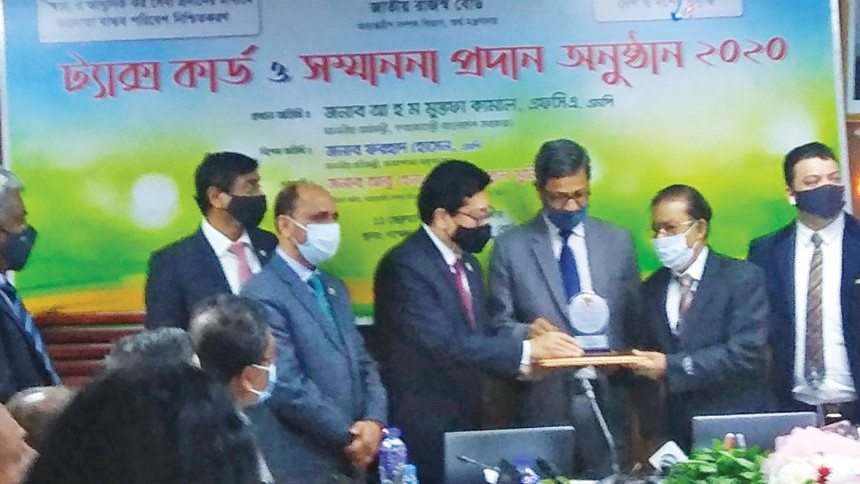 It was a day of recognition for tax compliance and the joy of being honoured. This recognition came from the National Board of Revenue (NBR).
In a bid to encourage compliance and bring more people under the tax net in a country where avoidance and evasion are rampant, the NBR yesterday honoured the highest taxpayers with tax cards and crests for abiding the rules.
Including the 141 highest taxpayers at the national level, the NBR honoured a total of 665 individual taxpayers throughout the country. Of them, 524 were awarded for becoming the highest and longest time taxpayers for fiscal 2019-20.
"We are really delighted. Our family has been paying taxes for many years and becoming honoured. Seven of our family members have become top taxpayers in various categories this year," said Rubaiyat Farzana Hussain after being presented with a tax card and crest at a ceremony at the NBR headquarters for being the highest taxpayer in the salaried individual category.
Hussain is general manager of Drug International. Along with her sister, Hosne Ara Hussain, also general manager of Drug International, were recognised by the NBR at the event where State Minister for Public Administration Farhad Hossain was present.
Finance Minister AHM Mustafa Kamal joined the event virtually to greet the winners for fiscal 2019-20. NBR Chairman Abu Hena Md Rahmatul Muneem chaired the event.
"This recognition will inspire us to feel an obligation that we are a real partner of the country's development," said SK Bashir Uddin, managing director of Akij Group, one of the largest business houses, after receiving a card on behalf of Sheikh Akij Uddin Limited.
Akij is one of the highest taxpayers out of the 141 taxpayers for last fiscal. It got recognition in the others category.
In addition to the others category, the NBR honoured a total of 76 individuals and 53 companies as the biggest and compliant taxpayers out of around 25 lakh regular taxpayers who file annual income tax returns.
Shehzad Munim, managing director of British American Tobacco Bangladesh, said businesses got a lot of support during the difficult days of pandemic after receiving the award. 
Yasir Azman, chief executive of Grameenphone, said they could resolve a number of disputes in 2020.
Syed Abul Hossain, former communications minister, who became one of the top taxpayers among businessmen, said the recognition will encourage taxpayers to pay more taxes.
At the event, the tax authority also honoured Md Kaus Mia, who has been topping the position of highest taxpayers for a decade. It awarded Laila Hussain, another highest taxpayer in the women's category.
Among companies, the NBR honoured Unilever Bangladesh and Standard Chartered Bangladesh.
Field offices of tax honoured the rest of the highest taxpayers in their respective offices yesterday.