Tanners in a capital crunch, seek Tk 600cr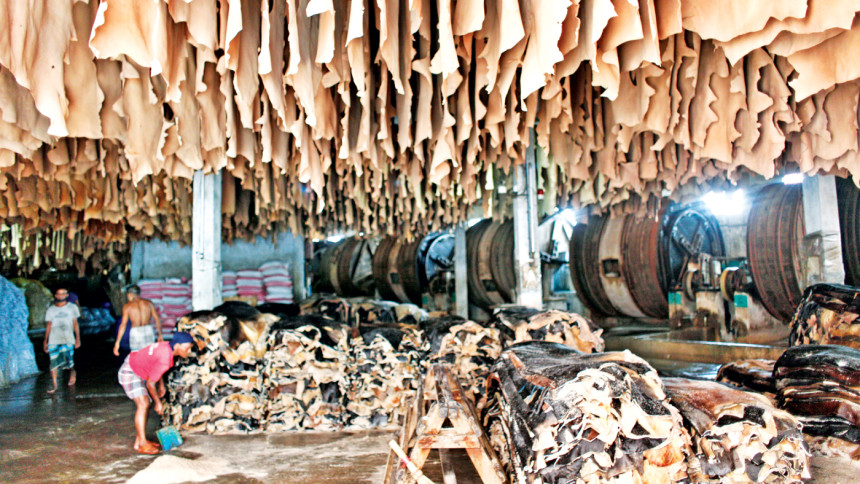 Tanneries are suffering from a capital shortage following a drop in sales amid the ongoing coronavirus pandemic, and subsequently, the country's rawhide business has been severely impacted, according to the Bangladesh Tanners Association (BTA).
Stocks of leather remain unsold at many processing factories due to low demand among buyers and this spells trouble for the business as most tanneries do not have enough working capital to purchase rawhide this year, said BTA President Md Shaheen Ahmed.
Last year, traders were forced to dump thousands of pieces of rawhide after they were unable to get adequate prices for the product from seasonal traders at the field level.
During that time, tanneries did not even pay the arrears owed to rawhide wholesalers for previous purchases. This had a trickle-down effect as wholesale merchants were then unable to pay the seasonal traders, mainly dairy farmers, in advance for their stocks of rawhide.
"However, the current situation may be even worse than last year as the Covid-19 fallout has had an adverse impact on our business," Ahmed told The Daily Star over phone.
BTA leaders met with the officials of the finance ministry, Bangladesh Bank and state-owned banks yesterday to address the industry's financial crisis, he added.
Managing directors of Agrani, Janata, Rupali, Sonali and BASIC banks were present at the meeting as those lenders mainly provide financing to tanners.
Ahmed said they sought Tk 600 crore from the government to solve the rawhide sector's capital crisis.
The BTA president also demanded waiver of the interest owed by tanners on previously availed bank loans.
Since 1990, about Tk 2,600 crore has been circulating in the tanning industry as loans, nearly 95 per cent of which have fallen in the classified category.
"We want a moratorium period for payments of our old loans as much of those turned classified over the years," he said.
The amount of money owed by the industry could be much higher considering the fact that two leather goods manufacturers recently went bankrupt after borrowing Tk 5,000 crore in total.
Most tanners have been unable to enjoy the benefits of the government's Tk 20,000 crore and Tk 30,000 crore stimulus packages due to the stringent conditions tagged with the two schemes.
Only 30 per cent of 155 tanneries at the newly established Savar Tannery Industrial Estate are currently operational due to a thin flow of work orders.
Work orders for finished and crafted leather from four major markets -- Spain, Italy, Hong Kong and South Korea -- dropped 40 per cent because of the pandemic, Ahmed said.
The four markets account for about 60 per cent of the total export of finished and crafted leather products from Bangladesh.
On the other hand, work orders from China remain stable but they quote very low prices, he said, adding that around 30 per cent of the country's yearly production of finished and crafted leather is exported to China.
Tanners are forced to sell their products to noncompliant Chinese companies at nearly 40 per cent below the regular price as European and American buyers are currently uninterested in the goods from Bangladesh.
Commerce Secretary Md Jafar Uddin said a high-power taskforce has been formed to address the problems faced by the rawhide businesses.
The committee, comprised of the representatives from the Federation of Bangladesh Chambers of Commerce and Industry, industries ministry, commerce ministry and other organisations, has already started to work.
The commerce ministry will set a minimum price for rawhide at the field level so that nobody can manipulate the supply and prices, Jafar Uddin said.
Meanwhile, Jitendra Nath Paul, project director of the Savar Tannery Industrial Estate, has informed that the estate is ready to tan rawhides. However, the construction of a fully functional solid waste management system will take a bit more time, according to the commerce secretary.