Swiss firm to invest $6 million in Meghna economic zone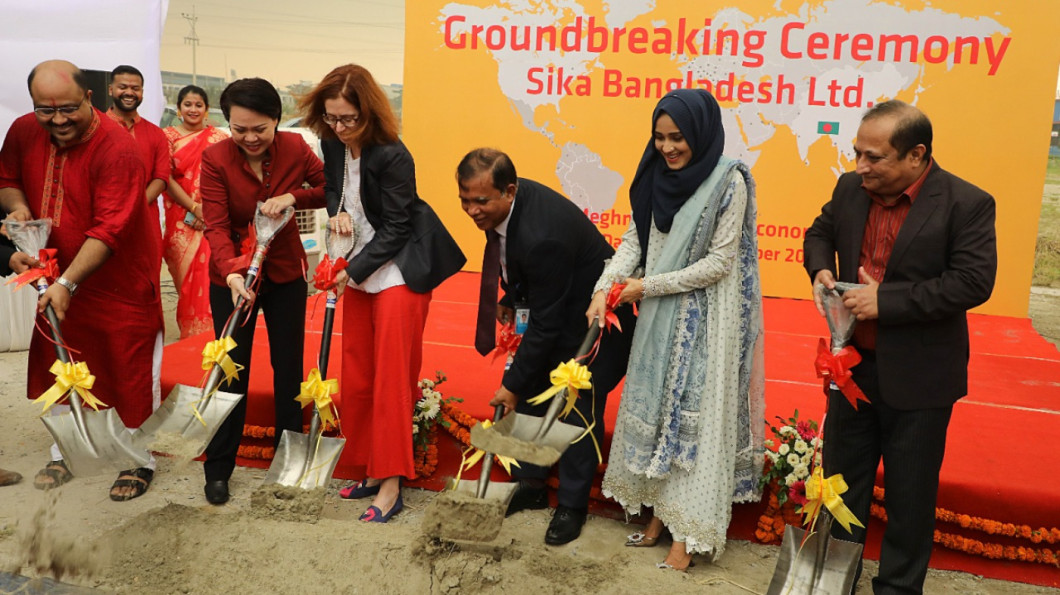 Sika Bangladesh, a subsidiary of Switzerland-based construction chemical manufacturer Sika Group, is investing $6 million setting up a 10,000-square metre factory in Meghna Industrial Economic Zone (Miez) in Sonargaon of Narayanganj.
The factory will mainly produce ‍admixture and grout, an official told The Daily Star, adding that about Tk 1,000 crore-worth construction chemical products were annually sold in Bangladesh.
Admixture is a mix of chemicals used to aid the properties of concrete or cement. Grout is a mortar or paste for filling crevices, especially the gaps between wall or floor tiles.
Sika's specialty chemicals enable developing products and systems for bonding, sealing, damping, reinforcing, and protecting in the building sector and motor vehicle industry.
"Many big development projects are going on in Bangladesh. It will happen in the coming days as well," said Sanjiban Roy Nandi, country head of Sika Bangladesh.
"As we are a construction chemical manufacturing company, our primary target is to provide supplies to the major construction projects in Bangladesh," he told a ceremony initiating excavations for the factory at Miez yesterday.
"The company will start production in the 3rd quarter of next year. One hundred people will be employed here…Talk are underway for availing one more plot," he said
"Based on future demand we will decide how to expand the business…Since Sika is working in 100 countries, we are moving ahead with long term planning," he added.
Nandi said there were several international and local companies manufacturing construction chemicals in Bangladesh. But still there are opportunities to invest where there is demand. That is why Sika is investing in Bangladesh, he said.
Addressing as chief guest, Shaikh Yusuf Harun, chairman of Bangladesh Economic Zones Authority, said, "I also want to mention how proud we are to be a part of a venture as big as yours."
"I want to take this opportunity and assure that your venture will have our all-out support in your every step of the way," he said.
"Bangladesh is transitioning from the list of least developed countries (LDC) to developing countries," said Swiss Ambassador to Bangladesh Nathalie Chuard.
"Foreign direct investment is very important for Bangladesh. We want to be a cooperative partner in the development of Bangladesh," she said.
Tanjima Binthe Mostafa, director of the Meghna Group of Industries, and Yumi Kan, area manager South Asia of Sika Asia Pacific Management Pte, were also present.
Sika has subsidiaries in 101 countries and conducts manufacturing in over 300 factories. Over 27,000 employees generated annual sales of CHF (Swiss franc) 9.3 billion in 2021.
It has been doing business in Bangladesh through a third party for almost 25 years. Sika Bangladesh officially started its journey in 2017.