Sonali's operating profits rocket
Good loan recovery gets the credit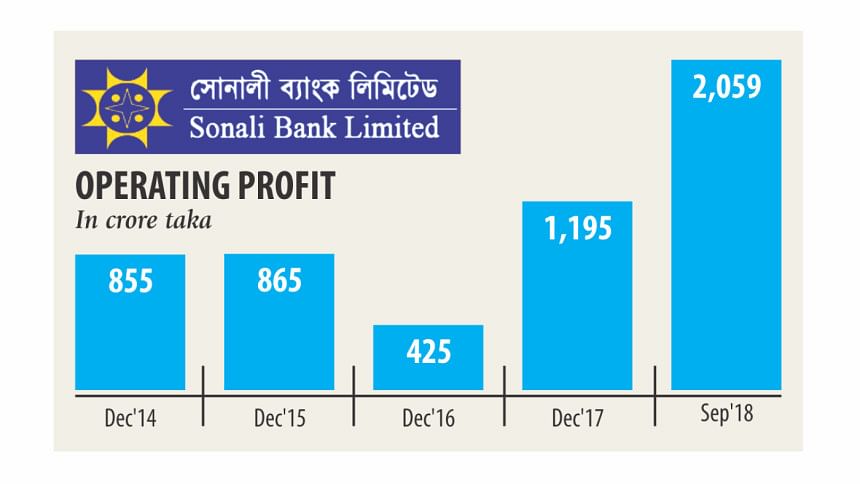 Sonali Bank's operating profits soared in 2018 thanks to recovery of huge amounts of bad debts and lending to the call money market.
The state-run lender logged in operating profits of Tk 2,058.54 crore, up 72.20 percent from a year earlier, according to the progress report it forwarded to the banking division last week.
The report was given based on primary statistics and the net profit could be more eventually, said a high official of Sonali.
Sonali had conducted a special drive for loan recovery last year that helped the bank to manage the large profit, said Md Obayed Ullah Al Masud, its managing director.
The bank recovered a total of Tk 3,668 crore from its classified loans, of which the cash recovery was more than Tk 1,000 crore. About Tk 25 crore was recovered from their written off loans amounting to Tk 7,188 crore.
"We instructed our 15,000 officials to recover at least one overdue loan last year. Only the branch managers were earlier assigned to recover default or overdue loans. But, the bank backtracked from the policy, which ultimately brought success."   
The bank will lay the highest emphasis on recovery of loans that are stuck with court cases, he said. Besides, the state-run lender bagged a good amount of profit by lending to the call-money market last year, when the majority of the private banks faced a liquidity crunch.
Sonali has been following a restricted lending policy over the last few years in line with the central bank instruction due to financial corruption previously.
The restricted lending policy has become a blessing as the lender has been enjoying excess liquidity in recent years.
Thanks to loan recovery, the bank's classified loans dropped by Tk 1,997 crore in one year and stood at Tk 11,800 crore at the end of December 2018.
A year earlier the bank's total classified loans stood at Tk 13,797 crore.