Rouf Chowdhury continues as Bank Asia chairman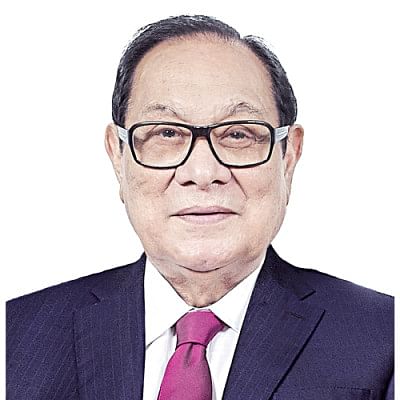 Eminent industrialist A Rouf Chowdhury has recently been re-elected as chairman of Bank Asia, in what can be viewed as an extraordinary vote of confidence in his stewardship of the lender.
"He has been like an anchor for the bank and its employees. Whatever tempest comes he is the first person to face it and rescue us to safety," Md Arfan Ali, president and managing director of Bank Asia, told The Daily Star yesterday.
Chowdhury's extensive experience and dynamic leadership have driven the bank toward excellence and prosperity, he said, while citing Bank Asia's pioneering of agent banking in January 2014 as a case in point.
The bank has so far recruited 3,686 agents, which have been providing banking services to more than 30 lakh clients.
"The move brought millions of unbanked under the umbrella of the banking system. His role in the country's financial inclusion is extraordinary," Ali said.
Now, Bank Asia, whose main sponsor is Chowdhury, is bringing in another form of innovation into the country's banking landscape.
By December, it is set to form a neobank, a kind of digital banking operation where no branch is required as the service is rendered completely online. The customers of the platform will settle all transactions by way of using apps and online modules.
Although clients now do banking by way of using the internet and apps, their accounts are with the branches. Under the neobank platform, accounts will not have any attachment to the branch.
Chowdhury, who is a graduate in business management from the prestigious American university MIT, spearheaded the creation of Bank Asia in 1999 by acquiring Bangladesh operations of Canadian Bank of Nova Scotia. It later acquired the Bangladesh operations of Pakistani bank Muslim Commercial Bank.
Today, the lender has 129 branches and 182 ATM booths across the country.
As of June, the bank disbursed Tk 23,500 crore in loans and mobilised deposits of nearly Tk 27,000 crore. The number of its deposit account is over 42 lakh.
The bank last year has undertaken a five-year plan to generate jobs in various parts of the country by way of building production-oriented institutions and to reach out to all parts of the country with its services.
Chowdhury started his business in 1980.
He founded more than 50 companies whose business interests range from automobiles, pharmaceuticals, real estate, IT, deep-sea fishing, telecommunications, electronics, food processing to bank and insurance and organisations in the last three decades.
Chowdhury is the chairman of Rangs Group and Sea Resources Group. He is also a director of The Daily Star, the highest circulated English daily in the country.
Listed in 2004, Bank Asia's share has been on the ascent for the past week. Yesterday, its shares closed at Tk 16.90.