RMG workers observe hunger strike demanding arrears, Eid bonus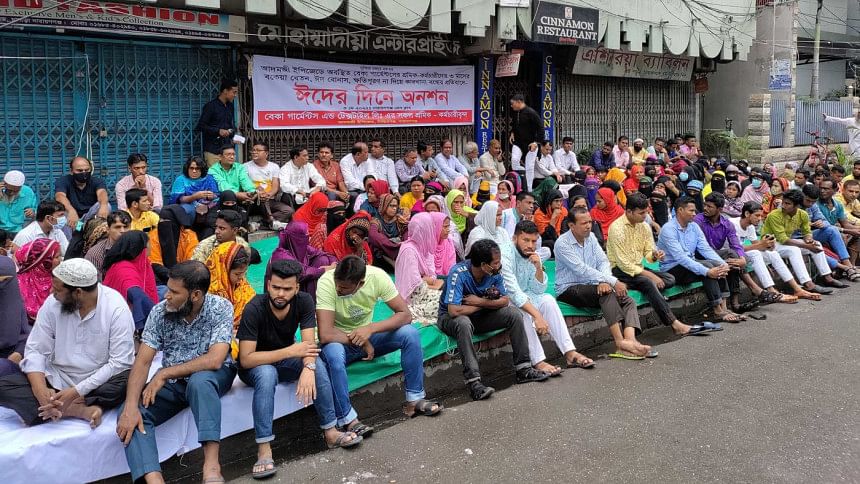 Nearly 700 workers of a garment factory observed hunger strike in Narayanganj city amid the celebration of Eid-ul-Fitr throughout the country today, demanding salaries for the last three months and Eid bonus.
The workers of Beka Garments and Textile began the hunger strike in front of Narayanganj Press Club in Chashara area around 11am and continued till 3pm, reports our Narayanganj correspondent.
The workers said there are 700 workers in the factory located in Adamjee Export Processing Zone (EPZ). On April 20, the factory authorities announced to pay salaries of February, March, and April and Eid bonuses but the workers found the factory closed that day.
Since then, the workers have been demonstrating. As there were no solutions, they observed a hunger strike today, said Farid Hossain, a factory worker.
The factory owner changed the scheduled date multiple times to pay arrears and bonus, said Farid.
"Today, on the day of Eid, we could not even eat shemai (vermicelli) due to a lack of money. Because of this, I went on the hunger strike. The owners will have to pay our salaries within 24 hours," he added.
Mohammad Asaduzzaman, superintendent of Narayanganj Industrial Police, told The Daily Star that the owner of Beca Garments is absconding. "We are trying to contact him."
"We have compassion for the workers. But if there is no owner, who will pay the arrears? We also have to work for these workers on the day of Eid. But we're trying," said the police official.
The correspondent could not reach Bobby Dyce, owner of Beka Garments and Textiles Ltd, for comments despite repeated calls.