A ray of hope for the jobless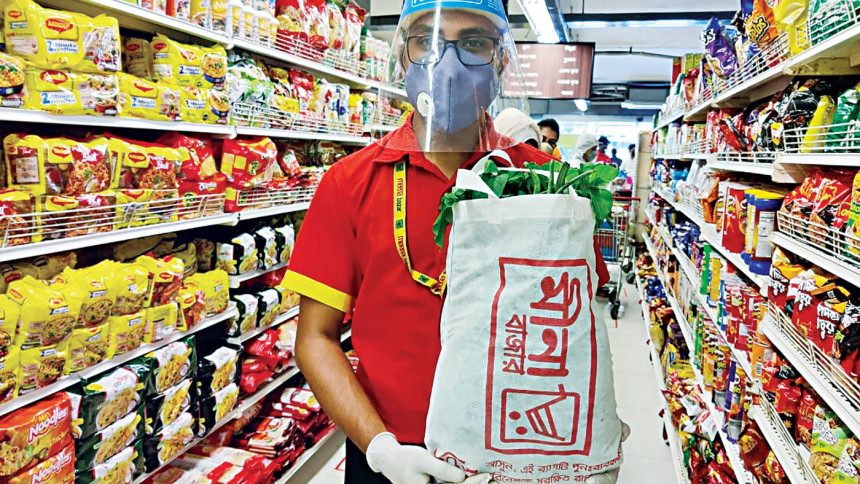 April was undeniably the worst-ever month for Amena Akter, a second year honours student of a college in Dhaka.
Her father and brother were laid off from a furniture shop near their home in the capital's Mirpur 11 as a result of the government-enforced shutdown.
The bad news did not end for her there. She used to earn some money taking classes at a coaching center in Mirpur and that too had to close.
Her family was devastated, worried sick about how they would pay their house rent and manage other expenses. There seemed to be no hope at getting a job when everyone else was being terminated.
One day when she was scrolling the newsfeed of her Facebook account she came to know about Kormo, an app-based job marketplace of Google that connects jobseekers to businesses seeking manpower.
She installed the app and found a job advertisement from Meena Bazar. She applied immediately and got an opportunity for a remote interview.
"On April 29, I installed the app and I got the job offer on that day," said Amena. "It was a big relief for my family as now I am helping them with house rent and other expenses," she said.
Like Amena, supermarket chain Meena Bazar employed a few hundred people through the Kormo app in the last two months.
"In March and April, many of our employees left their job fearing for the Covid-19," Kazi Inam Ahmed, a director of Gemcon Group, which owns Meena Bazar, one of the oldest supermarket chains in the country, told The Daily Star yesterday.
"With the Kormo app, we are able to meet our demand for employees," he said.
To address the Covid-19 situation, Kormo introduced two new features — Remote Jobs and Remote Interviews — in their app, allowing those looking for employment to discover critical work-from-home opportunities and safely conduct interviews online.
"Last two months it has been a bit different. People are now desperately seeking jobs and companies are eager to fill their vacancies," said an official of Google's Kormo.
The official said people were getting jobs using the Kormo app quicker than ever.
"When the situation was normal there were things like training. But now there are no such things," said the official.
According to a recent survey of Brac, around 62 per cent of low-income earners lost work opportunities during the shutdown. The pandemic also left 28 per cent of the respondents economically inactive, it mentions.
In April alone, Meena Bazar hired more than 400 staff during the lockdown using the Kormo app, their sole recruitment channel.
Meena Bazar's move also comes from the recent unprecedented demand for delivery services with consumers staying back inside their homes.
This has increased their need to hire more workers and conduct interviews remotely to cope with the requirements of consumers during the pandemic.
Launched in 2002, Meena Bazar now has 16 outlets and directly employs over 1,000 people.
"These days, our expert HR team is working with Kormo and conducting remote interviews to recruit people. This has made the process safer for our team and candidates," said Ahmed Shoyeb, general manager at Meena Bazar.
"It's our responsibility as a critical business to step up at this time. We're confident our partnership with Kormo will enable us to keep up with hiring demands and scale our remote workforce quickly."
Since September 2018, when Google launched Kormo, which maintains digital CVs, thousands of people found jobs using the app.
The app was launched with a view to helping people in the informal sector, either unemployed or employed at low pay, find jobs. It eyes the 86 per cent of the country's labour force who are employed in the informal sector.
The application has been developed under the Google's Area 120 programme, an incubator for new innovative ideas inside the company.
With free access to the web portal, Kormo helps its early employers' shortlisted candidates by using AI, tracks the candidates' end to end application status and overall, acts as an integrated Applicant Tracking System.
The Kormo app's feature to send consistent reminders (app notifications and messages) to job applicants about the interview schedule has eased HR team's daily operations significantly.