RMG workers now in fear of reprisals
Garment workers in Ashulia and Savar industrial zones now fear harassment and also termination from their jobs after normalcy returned yesterday following eight days of unrest over wage disparity.
Khairul Mamun Mintu, a local worker leader, claimed that so far more than 800 workers of different factories had been laid off. The factory managements also put up lists and photographs of the terminated workers at the entrance of the factories.
Some workers of a factory in Ashulia who were laid off said they had demonstrated peacefully on the factory premises but the authorities terminated their contracts for "vandalising the factory".
"When I went for duty today [yesterday], our production manager asked me to leave saying I had been suspended," said a worker on condition of anonymity, adding that his manager warned that he had been made accused in a case and would be arrested.
So far, eight separate cases have been filed with Ashulia and Savar police stations against 215 named and more than 1,000 unnamed garment workers for their alleged involvement in vandalism and looting, police officers said.
Of the cases, six were filed with Ashulia Police Station and two with Savar Police Station, law enforcers said.
"We have nabbed at least 10 workers for their alleged involvement in vandalising vehicles and factories," Rezaul Haque, officer-in-charge of Ashulia Police Station, told The Daily Star yesterday.
The week-long protest left one garment worker dead while 50 vehicles and some factories were vandalised.  
Meanwhile, State Minister for the labour ministry Monnojan Sufian yesterday at a core committee meeting on crisis management for the garment sector in her Dhaka office said the ministry would launch a hotline soon where one could lodge any complaints relating to garment factories round the clock.
At the meeting, factory owners assured that no "innocent" workers would be harassed.
Nazma Akter, president of Sammilito Garment Sramik Federation, said she hoped the normalcy which had been restored would continue. "Hope the normalcy will continue as the government revised the wage structures as per the workers' demand," Akter said after emerging from the meeting.
"Many workers have already gone back to work. There will be no problem if they go back to work; we talked to the factories owners," said Superintendent of Police (SP) in Dhaka Sha Mizan Shafiur Rahman while talking to journalists at a press briefing in Jamgora of Dhaka around 10:30am.
Replying to reporters' query, the SP also said some of those who had "instigated the unrest" had been identified and detained. Police would take action against them, he added.
Additional police forces were seen outside most of the factories in Savar and Ashulia areas in order to avoid any untoward situation. Security was also beefed up inside the factories.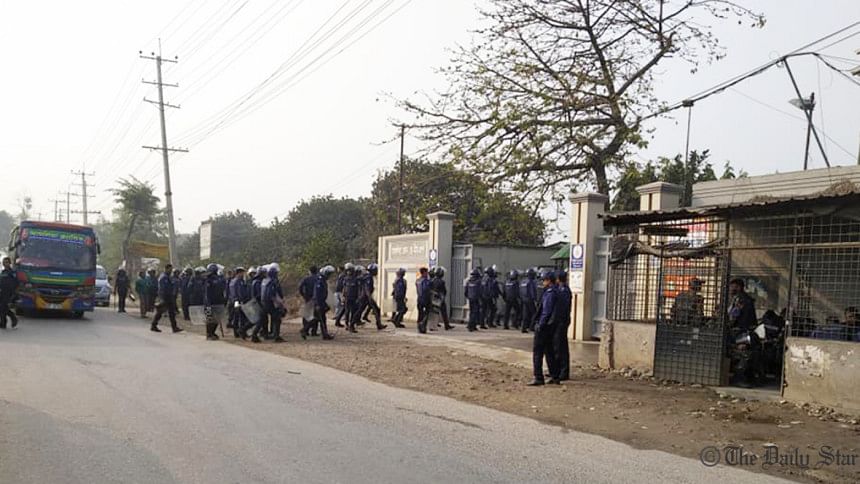 Police were seen using loudspeakers to urge workers to go back to work. "If you do not join work, you will not be paid," a police official was heard saying.
Sana Shaminur Rahman, superintendent of Dhaka Industrial Police, told The Daily Star yesterday that the factories had opened and workers had returned to work peacefully.
At least three factories were shut down for an indefinite period, but those would also reopen as normalcy has been restored, said Siddiqur Rahman, president of Bangladesh Garment Manufacturers and Exporters Association (BGMEA).
"It is difficult to specify the amount of loss due to the unrest as many factories were affected and some of them were vandalised severely. I can only say the amount is huge," said the BGMEA president.
The biggest loss to the sector has been of its image as the sector was working quickly for remediation following recommendations by the Accord and Alliance.
Many factory owners will lose work orders and may also have to bear costs of expensive air shipment of goods, he said. In case of air shipments, the factory owners could not make any profit, he added.