No clicks and clatter at photocopy centres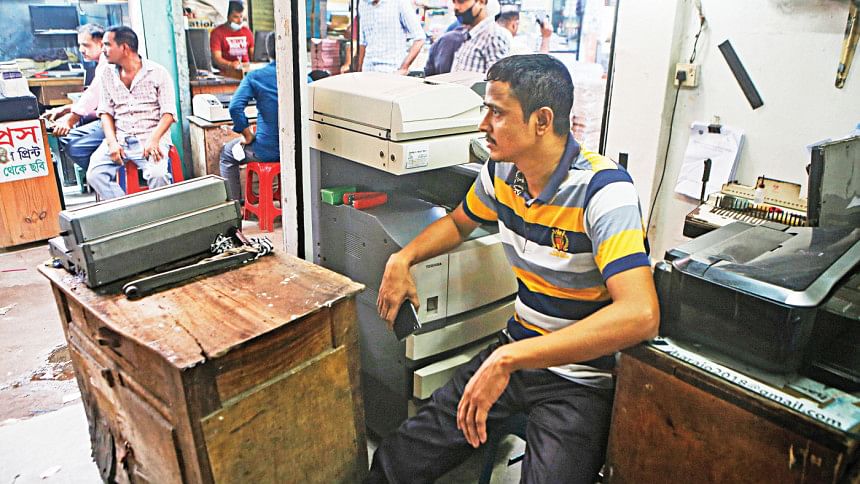 Print shops and photocopy centres provide crucial services for all, especially students and professionals. In fact, most of the photocopy business centres around educational institutions and offices. But in the crunch of the pandemic, when academic institutions and many physical workplaces are closed, these small businesses are gradually sliding into a state of deep crisis.
The City Corporation Market in Nilkhet, Dhaka is a hot spot for all kinds of print and publishing works. It attracts teachers, students, and professionals from everywhere. While some wait to make copies and print reports, others stand busy inquiring about banners and business cards, or check out office supplies. At least, that's what it used to be like, until the coronavirus struck. Its alleyways now stand empty, with barely a single customer in front of the shops.
"Our business is deeply intertwined with academic activities," says Mohammad Jamal Akand, a shop owner at the market. "Since the institutions are closed, our business isn't doing well. I can't even pay the rent properly. Some of my regular customers did stay in touch, but many do not respond, which is understandable. It's the same situation for us all," he lamented.
"We've exhausted almost all of our savings," adds Jamal. "At this stage, we're basically surviving by taking out small loans."
Md Abdul Razzak runs a similar business at the market. He too felt the full blow of the pandemic. When the restrictions were first imposed in March, he and his family left the city for their village. However, he returned soon after.
"I had to come back," says Razzak. "Business hasn't come back to normalcy. Right now, our only customers are from nearby offices, along with a few doctoral candidates. Once things improve, I'll bring my family back."
Although restrictions on movement have been eased, the government has so far insisted on keeping education institutes shut, with their reopening completely dependent on the pandemic situation. In case they remain shut for a long while, one can only imagine how bad the situation can get for these businesses.
"At first, I thought the situation would go back to normal within a week or two," said Shahidul Islam, another trader at the market. "When that didn't happen, I assumed it would be over within a month or so. But it's been over six months."
But Shahidul isn't giving up yet. "I still have hope that things will improve soon."
Like Akand and Razzak, Shahidul too is having difficulties paying rent. However, he says, what's more responsible for his loss of sleep is the fear of losing the love and respect of his loved ones.
"If you can't earn, your people will not love or respect you. That is just the harsh reality," Shahidul sighed. "During Eid, I couldn't even send 10 taka to my family. It's a painful memory. But the saddest part is the fact that I'm probably better off than most of our working population. I'm somehow managing from my end, but there are many others who are not as lucky."