Mutual funds to play bigger role in stock market
BSEC commissioner says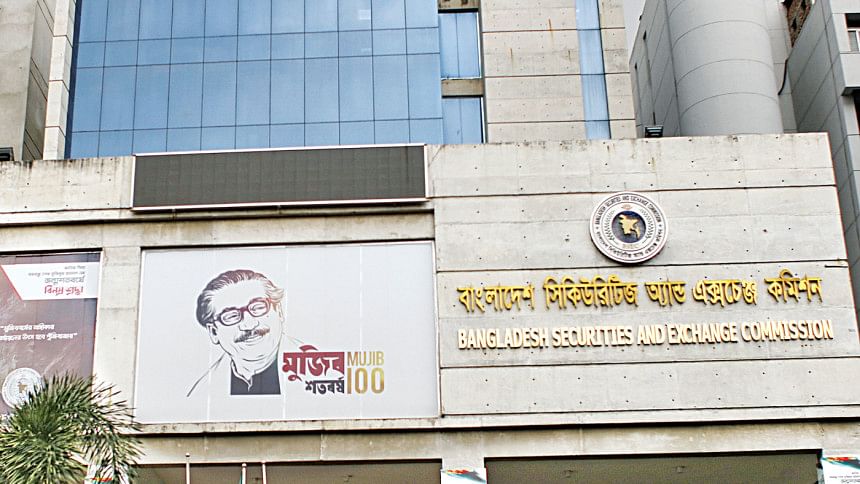 The Bangladesh Securities and Exchange Commission (BSEC) is anticipating mutual funds' contribution in stock market capitalisation to balloon from some 3 per cent at present to 20 per cent.
"Our hope is that (it will happen) within five years," BSEC Commissioner Mizanur Rahman told a webinar yesterday.
The sector should hold strong to help the stock market gain strength and also meet higher demands of private investment in coming years, he said.
The BSEC in a recent meeting said it brought changes to some rules and that more would follow centring mutual funds to bring discipline and accountability and revive investor confidence.
A mutual fund is a company that pools money from many investors and invests it in securities such as stocks, bonds and other assets. Stock market capitalisation is the total market value of an exchange's outstanding shares.
The private sectors needs the investment-GDP ratio to rise by 10 per cent to meet the government's targeted economic development and the capital market could mobilise a large part of the massive investment demand, Rahman said.
Mutual funds could be a medium to this end, he said, lamenting, "But, the mutual fund sector failed to attract investors."
Fund managers are expected to generate a reasonable return which must at least be the risk-free rate plus a premium, said Rahman.
But because of either their inefficiency or greed or both, they failed to achieve neither liquidity nor profitability, he said.
This is because many fund managers invested into risky capital market instruments disproportionately, continued the regulatory official.
They did so despite having the scope to invest up to 40 per cent of their funds into risk-free money market instruments and 30 per cent into fixed income investment grade corporate bonds, said Prof Rahman.
Some chose to pay dividends for years while incurring losses, which ultimately eroded their capital, he added.
Titled "Importance of Mutual Fund Industry in the Capital Market as well as in the Economy of Bangladesh", the webinar was organised by the Association of Asset Management Companies and Mutual Fundsin observance of World Investors Week 2020.
Calling for increasing financial literacy this year, the event is being observed by the BSEC along with market intermediaries in tune with the International Organisation of Securities Commission.
The mutual fund sector faces no fundamental or legal problems, though many try to say so, said Hasan Imam, managing director and CEO of Race Asset Management.
The sector ended up disbursing low dividends mainly for its investment destination, the stock market, remaining bearish for long and the stock index continuing to stay gloomy, said Imam, also the association's president.
Bangladesh's investors determine the performance of a mutual fund based on its unit price whereas its net asset value should be the key criterion, he pointed out.
They also believe that mutual funds are risk free instruments but in reality there is some risk, since the funds are invested into the stock market, he added.
Meanwhile, people lack knowledge on the sector, which ends up adversely impacting their decisions, he said.
Bangladesh's stock market is based on individual investors so the government needs to provide incentives to get them interested in mutual funds, said Waqar Ahmad Choudhury, managing director and CEO of Vanguard Asset Management.
One way could be through exempting capital gain tax, which will also boost investor confidence, he added.
Md Nafeez Al Tarik, managing director and CEO of Asian Tiger Capital Partners Asset Management, presented a paper. Abul Hossain, managing director of the Investment Corporation of Bangladesh, and Asadaul Islam, managing director and CEO of Alliance Capital Asset Management, also spoke.