Motorbike market to race faster in 2019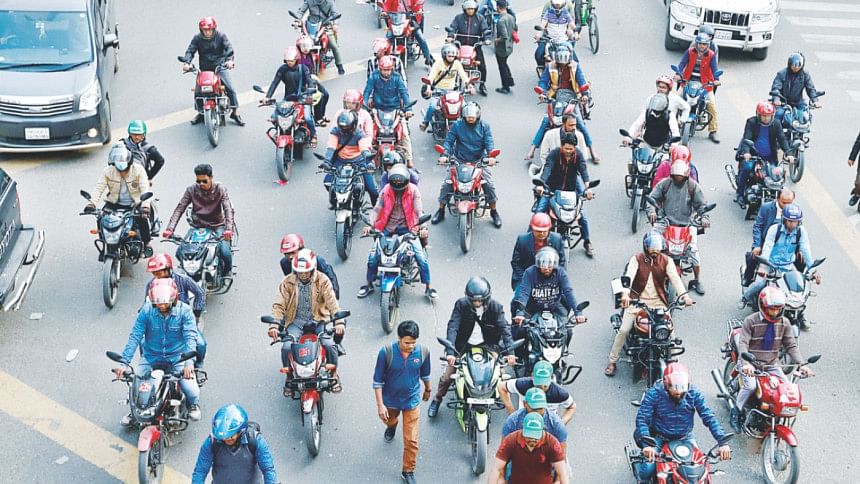 The motorcycle market is set to be around 6 lakh units by the end of 2019 thanks to price cuts, increasing purchasing capacity and thrust for faster mobility.
"2018 was a good year for the sector but 2019 will be better," said Hafizur Rahman Khan, chairman of Runner Automobiles, a pioneer in the field.
Although the exact sales data are not available, Subrata Ranjan Das, executive director of ACI Motors, which markets the Yamaha-branded two-wheelers, said about 4.80 lakh units of bikes were sold in 2018, posting 24 percent year-on-year growth.
The highest growth took place in the 150cc segment, followed by 110cc ones, he said, adding that the market would grow about 30 percent in 2019.
Overall, the market is expected to be close to 6 lakh units by the end of 2019, said Shah Muhammad Ashequr Rahman, head of finance and commercial of Bangladesh Honda Private Ltd (BHL), which opened its motorcycle plant in November last year.
The reason for the optimism is that motorcycles became more affordable thanks to local manufacturing by most of the brands.
The market began to expand fast from fiscal 2016-17, when the government slashed the supplementary duty by 25 percentage points to 20 percent on the import of the two-wheeler's components to encourage domestic manufacturing.
The government also framed the National Motorcycle Industry Development Policy 2018 with a view to diversifying the country's manufacturing and exports and creating jobs.
"The market will grow faster if the government support to the industry continues," said Matiur Rahman, chairman and managing director of the Uttara Group of Companies, the assembler and distributor of Indian Bajaj motorbikes, the market leader in Bangladesh.
The annual market size would grow to 10 lakh units within three to four years, said Bijoy Kumer Mondal, chief financial officer and company secretary of HMCL Niloy Bangladesh, which manufactures the Hero-brand bikes.
"Penetration in the rural market has grown as people are switching from bicycles to motorbikes," he added.
The industry is yet to reach full potential in the absence of structured retail finance from the banking sector, said Biplob Kumar Roy, chief executive of TVS Auto Bangladesh, the second-biggest player in terms of sales. 
Adequate infrastructure and policy continuation by the government is necessary for the sector, he added.