'Made in Bangladesh' smartphones headed to US
Local electronic giant Walton pulls off the feat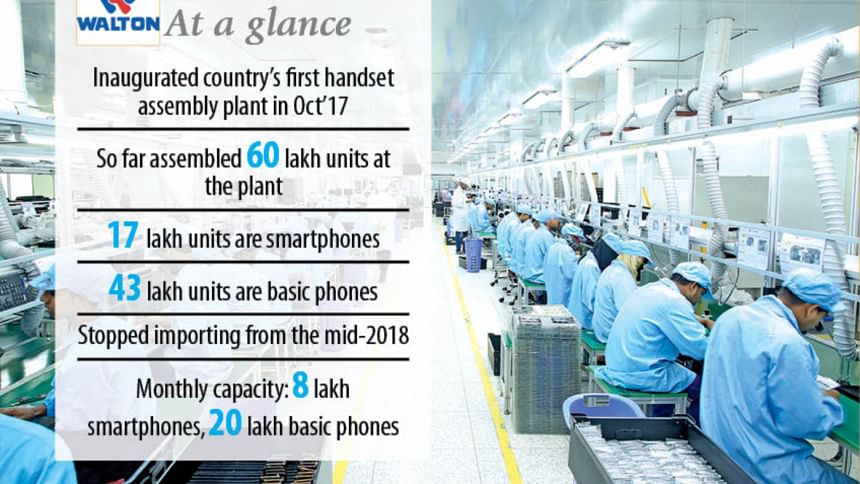 Walton is set to export smartphones to the US, in what can be viewed as a remarkable endorsement of the leaps taken by Bangladesh's manufacturing sector.
"The dream of exporting 'Made in Bangladesh' smartphones is now coming true," said SM Monjurul Alam, managing director of Walton, adding that the quality of the locally-made smartphones with advanced features has drawn buyers' attention.
The first consignment of the smartphones, which would be priced between $100 and $200, will be out of the gates of Walton Digi-Tech Industries's plant in Chandra, Gazipur in March 1.
The smartphones are bound for a renowned American brand and Walton is the original equipment manufacturer, Alam said, while declining to disclose the name of the brand.
This kind of production is known as contract manufacturing, which is commonplace in Bangladesh's garments sector.
"The US importer signed an agreement with us a few months ago and we were improving our quality before finalising the shipment."
The homegrown electronics giant is not stopping at this.
After the US it is planning to ship smartphones to Europe, Australia and other developed nations. "Walton is now producing international standard smartphone," Alam added.
"This will be a huge moment for Bangladesh and all Bangladeshis should feel proud of this achievement," Telecom Minister Mustafa Jabbar told The Daily Star.
Walton has been at the forefront in this field and keeps hitting new milestones, he said.
Indeed, the company was the first to set up a mobile phone manufacturing plant in Bangladesh in October 2017.
So far, the plant has churned out 60 lakh units: 17 lakh smartphones and 43 lakh basic phones.
"Walton along with some other companies is making the country proud as currently 40 per cent of the domestic demand for handsets is met by nine local firms," Jabbar said.
The assembly boom follows a government decision in 2015 to slash equipment importing tax to just 1 per cent from as high as 100 per cent.
"That was a changemaker. And we are now harvesting the results," he added.
Walton also excels in manufacturing of other high-tech products too: it is shipping a wide range of electronics and electrical appliances to about 35 countries in Asia, Europe, Africa and the Middle East.
It inked an agreement with global e-commerce giant Amazon last year to market 'Made in Bangladesh' electronics and ICT devices in the US. The shipments will start from this year, according to a Walton official requesting anonymity.
Walton is also manufacturing mobile phone accessories such as chargers, batteries, earphones and motherboards and meets its entire demand for accessories from local production.
The milestone of Walton's mobile export will be celebrated on the factory premises of; Finance Minister AHM Mustafa Kamal, Jabbar and ICT State Minister Zunaid Ahmed Palak will grace the occasion.
Another announcement will come on the same day: 26,000 laptops manufactured at the plant will be shipped to different markets.
Last year they sold 12.02 lakh smartphones and 41.76 lakh feature phones in the local market.
Since Walton is gradually finding its feet overseas, officials said they will now double down efforts to make it the best Bangladeshi brand in the global market by 2030.