Litchi season to be fleeting this year
Farmers and traders cite production shortfalls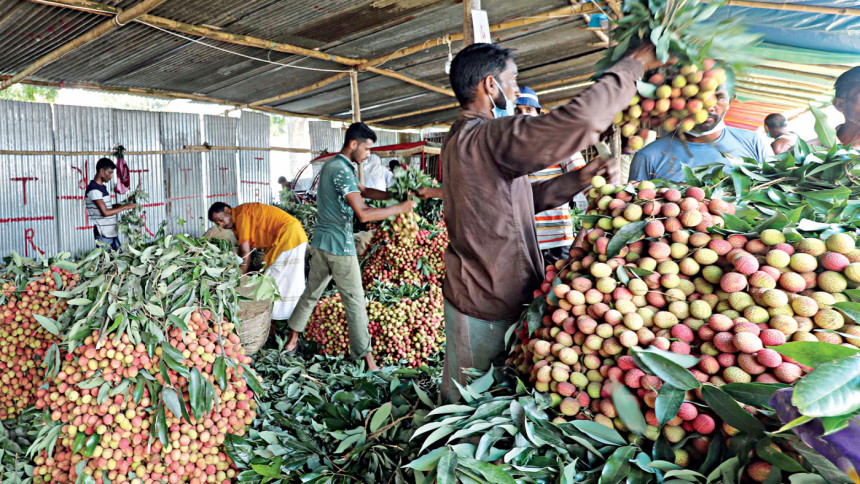 The litchi season may end earlier than usual this year as unfavourable weather conditions led to lower production of the sugary tropical fruit, according to industry insiders.
The season is usually 45 days long but it might not last for even a month this year as production was nowhere near the expected level, said traders and plantation owners in Dinajpur.
Litchi is grown across all 64 districts of the country but just 26 of them are engaged in commercial production.
The litchies from Dinajpur, the largest growing district, are high in demand for its unique flavour, size and colour.
Litchi arrived in the markets halfway through May this year even though the harvests usually begin at the end of May or early June every year.
"We started plucking early this year as it ripened early," said Moslem Uddin, a litchi grower of Dhukurjhari village under Biral upazila of Dinajpur.
Litchis from surrounding upazilas hit a seasonal market in Dinajpur town about a week ago, said local traders.
During a visit to the temporary market, which is the largest wholesale market in Dinajpur town, this correspondent found traders passing busy times. Traders from other districts also source litchi from the market.
Several varieties of the fruit are produced in Dinajpur, including Madrazi, Bombai, Bedana, Kathali and China 1, 2 and 3. Of them, the Madrazi variety has already flooded the markets while Bedana is available on a small scale.
The Bombai and China 1, 2 and 3 varieties will arrive in a couple of weeks, they added.
A 100-piece bunch of Madrazi litchi is being sold for Tk 200 to Tk 280 depending on the quality and size while Bedana is available between Tk 500 and Tk 700.
Considering the low supply amid high demand, traders say prices may rise.
Mozahar Ali, a farmer of Paikpara village under Dinajpur Sadar upazila, said he brought his litchis to the local wholesale market for sale on Monday.
"Price is good but the production was frustrating against expectations," he added.
Ali went on to say that litchi production has dropped by around 70 per cent as he grew the fruit on just 10 trees this year compared to 60 trees in 2020.
Md Munna, a farmer of Mashimpur village under the same upazila, said litchi would become pricier if the ongoing nationwide lockdown was withdrawn.
Traders from other districts are being able to visit Dinajpur unhindered only from this week as previously public transportation had remained suspended amid a slew of measures imposed by the government to curb the spread of Covid-19.
Even though the traders from surrounding districts started coming to Dinajpur on small trucks, their numbers are not high enough to make decent profits, Munna added.
According to data from the Department of Horticulture's Dinajpur office, litchi was grown on 5,600 hectares of land this year with total production likely to be around 45,000 tonnes, which is about 30 per cent lower than that last year.
The market value of the produced litchi is around Tk 550 crore.
Prodip Kumar Guha, deputy director of the horticulture office, said production due to high temperatures between December and January.
There are around 4,000 commercial litchi orchards in Dinajpur.
Other than Dinajpur, Thakurgaon and Pancahgarh, litchi plucking also started in other districts, including Pabna.
According to the Directorate of Agricultural Extension in Dhaka, annual litchi production was around 2.40 lakh tonnes.
In 2018-19, the country produced around 2.30 lakh tonnes of the fruit with a lion's share coming from the Dinajpur and Pabna districts.