Jamuna teams up with Bashundhara LP Gas to increase auto gas sales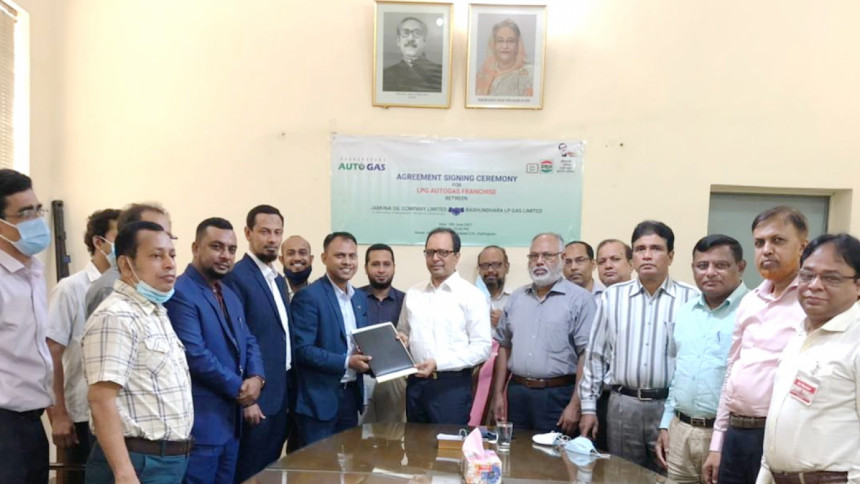 State-run listed company Jamuna Oil has teamed up with Bashundhara LP Gas Ltd to increase the sales of liquefied petroleum gas (LPG) around the country.
Now, Bashundhara will build LPG pumps in filling stations and supply the gas to the stations owned by Jamuna and in exchange the latter will receive a royalty or commission of Tk 0.5 per litre of LPG sales.
Both the companies will work together for expanding the market of international standard autogas replacing the traditional fuel, the agreement papers read.
Jamuna Oil Managing Director Md Gias Uddin Ansary and Head of Sales of Bashundhara LP Gas Jakaria Jalal inked a deal at Jamuna Bhaban in the capital on Tuesday.
Ansary said autogas has become a popular mode of fuel and Bashundhara LP Gas can fulfil the local demand of environment-friendly energy through the partnership.
Jalal briefed on the present state of services of the company at the meeting that focused on the import process and supply chain management.
He said the signing of the agreement is a milestone for Bashundhara LP Gas, the leading brand from the private sector.
Autogas or LPG has become a unique source of environment-friendly fuel and Bashundhara LP Gas will empower the autogas stations of Jamuna Oil with state-of-the-art services, according to a statement.
Bashundhara Group has partnered with around 200 autogas stations to supply LPG and the process to sign agreements with another 200 stations is underway.
Jamuna Oil General Managers Ayub Hossain and Masud Karim, Deputy General Managers Khasru Azad, Masudul Islam, GAA Muyeed, Abdus Sabur Khan, Md Jasim Uddin and Hasan Imam, Assistant General Manager of Bashundhara LP Gas Nur Kutubul Alam and Divisional Sales Manager Enamul Haque were present at the meeting.