Help industries access financial support, continue health safety momentum
BGMEA President Rubana Huq says in an interview with The Daily Star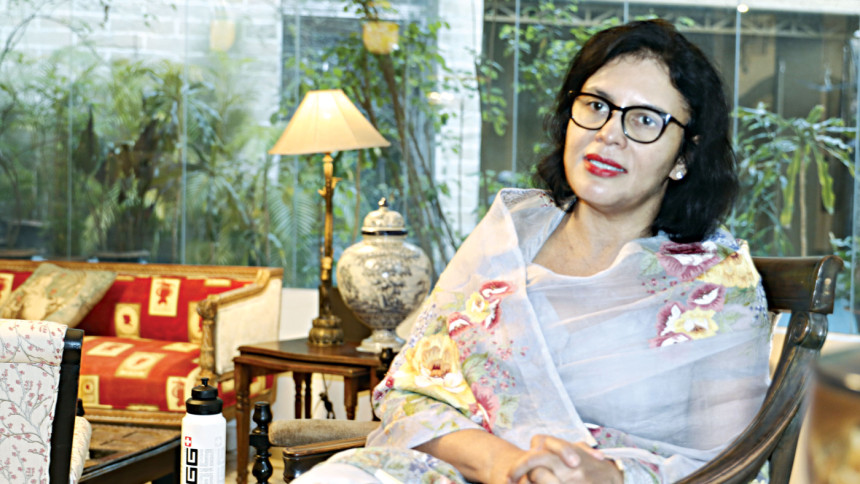 It has been six months since the pandemic hit the nation, throwing Bangladesh's economy, life and livelihoods into a crisis. The Daily Star interviewed business leaders, executives and analysts by emailing them questions in an effort to use the feedbacks in highlighting the real situation and realisations on the ground.
Garments account for over 85 per cent of the country's export earnings. Here are some thoughts of Rubana Huq, president of the Bangladesh Garment Manufacturers and Exporters Association (BGMEA).
From an overall perspective of the economy, what have we gained and lost?
There is nothing to gain from this disastrous situation that has been bought on by Covid-19. It is total mayhem and an apocalypse. Trade and business are going through a depressing time which was last seen during World War I.
However, we can only say that this has taught us how to cope with this type of pandemic and awaken our conscience. Covid-19 is not over yet and according to scientists, there might be a second or third wave of contractions stronger and calamitous than this.
We can only use our experience gained from the situation and use it to strengthen our recovery process.
What did we do right?
After detecting the first Covid-19 patient on March 8, the government of Bangladesh announced a nationwide general leave from March 26 onwards, and the garment industry aligned itself with it. That immediate shutdown might have saved us from a disastrous situation that many developed countries had to face in terms of deaths and affected ratio.
When Covid-19 put lives and livelihoods in a war-like situation, it was absolutely crucial for us to brave it out and go for reopening. There were criticisms, but we did it and we did it by following strict health protocols and following other precautions like adopting gradual reopening.
The other thing that was really very timely is the announcement of the salary support loan package by the honourable prime minister at the end of March. Had we not received this support, it would have been a completely different and chaotic scenario today.
The other steps which have really paid off is our die hard engagements with the buyers who cancelled orders, and get them back on the negotiation table, which is why today 80 per cent to 90 per cent of the $3.18 billion cancelled work orders have been reinstated.
What went wrong?
Covid-19 has bought a war-like situation in many countries and in a war, there is nothing called right or wrong. We were trying every avenue to survive and learning from mistakes. Before judging whether we did right or wrong, it should be remembered that none of us had any prior experience to confront this type of situation.
Obviously, we could have done things better and there was room for improvements. Undoubtedly the policy support we got from the government of Bangladesh supported us at that moment. However, issues regarding access to working capital and access to credit could have been extended at simpler terms so that the industry could have benefitted out of it.
We have also learnt of a number of drawbacks like a lack of proper contractual protocols between buyers and suppliers, and we did not even have any backup to respond to an emergency crisis situation. This pandemic has also shown us our overdependence on the garment sector and the need for immediate diversification.
What was the impact on businesses and jobs?
The pandemic of the century, Covid-19 has been taking its toll on lives and livelihoods since last December. In case of Bangladesh, by far the sector hardest hit by the coronavirus is the garment industry. In order to curb the spread of the virus the factories were shut down for almost a month.
According to conservative data, excluding the goods that are scheduled to go to multiple buyers, 1,149 factories have reported export cancellations or suspensions worth of $3.17 billion, most of which have been reinstated later.
On one hand, the supply chain of raw materials from China has been heavily disrupted; on the other hand, due to the lockdown in Europe and the US, garment export has witnessed a sharp decline.
Some 4.1 million workers who are the fuel of this industry are in a vulnerable position due to the order cancellations and deferred payments. If a factory is forced to shut down because of order losses, it puts the workers on the risk of being furloughed/laid off.
However, at this point I think it is safe to say that we have passed probably the toughest time and we have been able to survive without any massive layoffs.
What were the responses of businesses and your organisation?
After being closed for almost one month, which can be associated with a million dollars' worth of export losses and overdue payments, the garment sector of Bangladesh started opening up on a limited extent from April 26.
In order to protect the health and safety of our workers, the BGMEA has adopted a safety protocol prepared in consultation with International Labour Organization and the director general of health of the Bangladesh government.
This guideline has been circulated among all the member factories and factories are only allowed to resume their operation upon ensuring all of the measurements. Any worker showing symptoms of the coronavirus can take leave from the factories without worrying about their livelihood.
The safety protocol provided by the BGMEA has clear instructions regarding operational phases, social distancing, entrance protocol, sanitation and disinfecting, training and good practices. With an aim to maintain social distancing at the workplace, factories started production with only 30 per cent to 55 per cent of the total workforce.
What have you done to utilise consumers' new habit of buying from digital marketplaces?
From the BGMEA, we are constantly discussing and highlighting the importance of virtual marketplaces. We have already held discussions with the central bank and other authorities.
What is interesting to note is that there are certain policy incompatibilities to go for virtual marketplaces on a mass scale, so we are conducting an exercise on the policy predicaments and measures to be taken to address them.
What is your take on government responses to help businesses overcome the situation?
The honourable prime minister of Bangladesh announced a stimulus package worth Tk 5,000 crore for the export oriented industries, including the garment sector, which injected a breath of hope for the devastated exporters and businesspeople.
Because of that salary support, factory owners have been able to pay salaries of their workers even though production was fully shut down. It is still very soon and uncertainties remain over predicting whether there will be a second wave or not and how dire the situation will turn out to be.
There were unprecedented moves by all the ministries and departments of the government to stand by the industry and help us survive. Policies like stays on loan classification rules and regulations related to export proceed realisation and making export development fund simpler were time befitting and lifesaving.
And finally what are the lessons learned?
Our financial resilience, supply chain being especially and overwhelmingly concentrated on China, lack of a proper exit policy, insolvency issues, exhausted credit lines, lack of an emergency response mechanism, and absence of a proper contractual protocol between buyers and suppliers, dealing with bankrupted buyers and raw material suppliers, have been exposed by the Covid crisis.
The Covid-19 has unleashed many truths which were never uncovered, some of those are about our internal deficiencies which need to be overcome, and some of those are about how we deal with our stakeholders with proper policy measures.
And what the government and businesses should do for taking the economy back to normalcy?
We have to keep in mind that without cooperation and assistance from all stakeholders, it is impossible for us to overcome this coronavirus crisis. According to the forecast released by World Economic Outlook, the global economy is expected to contract by 4.9 per cent in 2020.
In order to combat Covid-19, the stimulus package announced by the honourable prime minister worked as a stopgap measure. In order to fix the damaging effect of Covid-19, we need to help the industry get access to financial support including freezing the outstanding liabilities for certain tenures and providing credit access to factories so that they can restart and survive.
And of course we need to continue the momentum of health safety and hygiene practices and the awareness of social distancing. We need to find new opportunities that Covid has opened up like the market of personal protective equipment and also how more investments can be drawn in Bangladesh, and how we can diversify our products.