Govt to inspect Dhaka's 1,072 commercial buildings' safety standards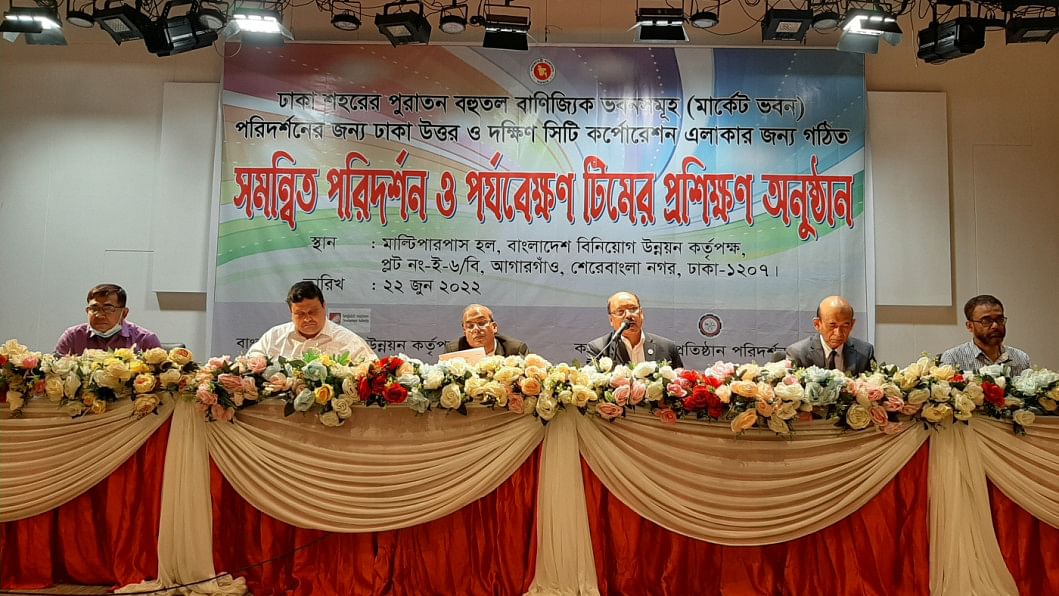 The government will inspect multi-storied commercial buildings (market buildings) in areas under Dhaka North and South City Corporations to strengthen the building safety measures.
Initially, 11 integrated inspection and monitoring teams have been formed to inspect 1,072 commercial buildings in both city corporations, according to a statement from the Department of Inspection for Factories and Establishments (DIFE) released today.
The inspection may begin at the end of this month as the date is yet to be fixed, according to a senior official of the DIFE.
The Bangladesh Investment Development Authority (BIDA) organised training for all members of the integrated inspection team on Wednesday.
The DIFE has provided overall support to the training held at BIDA Multipurpose Hall.
The 11 integrated teams include members from the DIFE, the Department of Fire Service and Civil Defense, the Department of Environment, the Public Works Department, the Department of Architecture, Titas Gas Transmission & Distribution Company Limited.
Also, the Department of Explosives, the Office of the Chief Electric Inspector, the Federation of Bangladesh Chambers of Commerce and Industry, Dhaka Electric Supply Company Limited, Dhaka North and South City Corporations are the team members.
This inspection will be carried out through a new checklist of 82 questions, according to the statement.
Earlier, some 108 teams led by BIDA inspected 5,206 factories and establishments across the country.
"Inspectors will inspect sincerely so that the inspection report reflects the true picture of commercial establishments and markets," said Md Nasir Uddin Ahmed, inspector general of the DIFE.
He urged the members of the integrated inspection and monitoring teams to complete the inspection with the mentality of maximum cooperation during the inspection.