90pc wastes removed: DSCC mayor
CCC cleans animal wastes on Eid day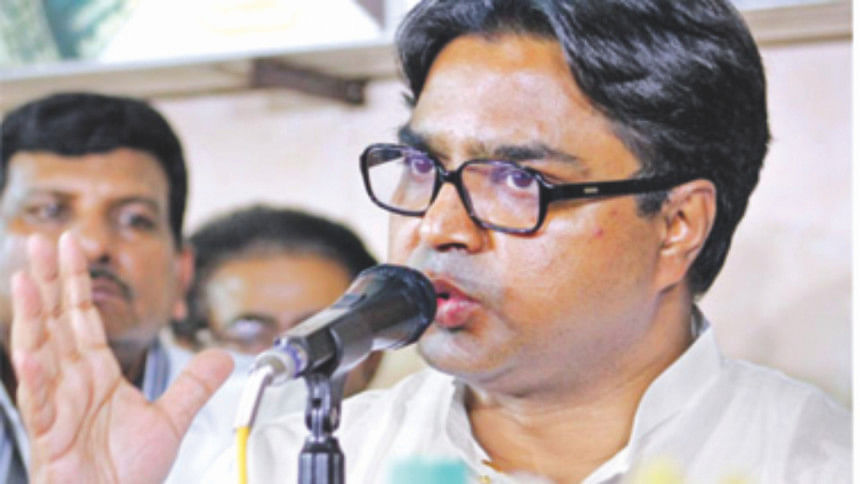 Dhaka South City Corporation (DSCC) Mayor Sayeed Khokon today said 90 percent wastes have been removed from the cattle markets and the slaughtering spots in the capital.
"We made a pledge to clean the city within 24 hours on Eid day after sacrificing of animals...as per our commitment we have removed around 90 percent of wastes from both the North and South corporations," he told a press conference at Nagar Bhaban in Dhaka.
"The cleaning operation is still going on as devotees would slaughter animals till tomorrow," he said.
"Around five lakh cattle were slaughtered on Eid day," he said, adding, "In DSCC area, we had estimated around 18 thousand tonnes of wastes ...the cleaners have already removed 14 thousand tonnes of wastes by three thousand trips and rest of the wastes would be removed soon," Khokon said.
This time, 12,000 cleaners have been working with 350 vehicles and other cleaning equipments from noon to clean the wastes, he added.
DSCC has selected 623 spots to sacrifice animals so that the corporation cleaners easily can reach there to remove the animal wastes, the mayor said and urged the devotees to sacrifice animals on the selected spots.
He also urged the DSCC dwellers to post pictures on social media - Facebook or call on a hotline - 09611000999, if they found any wastes in their respective areas.
CCC cleans animal wastes on Eid day
Chittagong City Corporation (CCC) has managed to remove wastes of the sacrificial animals on Eid day as it deployed around four thousand cleaners on Saturday morning.
"CCC had fixed 361 points in the 41 wards in the port city for slaughtering sacrificial animals. Four thousand cleaners were on the streets since the morning to remove the wastes.
"All the wastes were successfully removed by 5 pm with 250 vehicles. We also sprayed bleaching powder to make the city free from air pollution," CCC wastes management standing committee president and councilor Shoibal Das Sumon told BSS.
CCC divided the 41 wards of the city in four zones. Responsibility of cleaning wastes from north zone was given to Mohra war councilor Mohammad Azam, south zone to North Pathantuli ward councilor Mohammad Zabed, east zone to Bokshirhat war councilor Haji Nurul Haque and west zone to North Kattoli Ward councilor Morshed Akter Chowdhury.
A central control room was opened at Dampara and four sub-control rooms were opened at Bibirhat, Gosaildanga, Dewan Bazar and Soraipara ward council offices.