E-COMMERCE POLICY
Foreign firms barred to 49pc stakes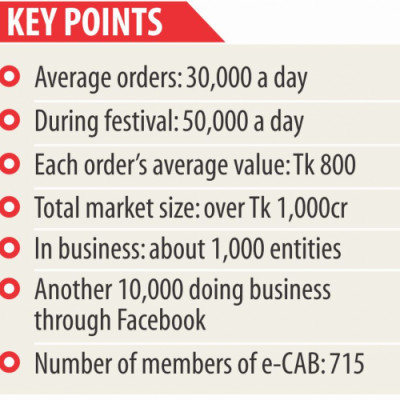 E-commerce entrepreneurs have raised concerns about the new government policy restricting foreign investors from holding more than 49 percent stakes in digital ventures as it will put the brakes on Bangladesh's fledgling start-up industry.
"Foreign investors were the key behind developing Bangladesh's start-up industry," said Hussain M Elius, chief executive officer of Pathao, a home grown ride-hailing service that went toe-to-toe with global giant Uber thanks to funding and guidance from abroad.
Bangladesh's start-up industry did not get much support from local sources like banks and financial institutions, which tend to prefer safer bets that the new ventures do not provide. So, their main hope thus far was foreign investors.
The new government policy drafted by the ICT ministry discourages foreign investors in an already nascent market, he added.
"It is already incredibly difficult to convince foreign investors to invest in Bangladesh as it is a very new market," said Waiz Rahim, chief executive officer of Deligram.com, a new omni-channel e-commerce venture of Rahimafrooz Group.
Such anti-foreign direct investment policies make it even more impossible to raise enough investment to grow the sector.
In 2018, a host of start-ups raised $1 million to $10 million for the first time, according to Rahim.
The companies are supposed to raise their next round of funding this year and the new policy might put the plans on hold. "This policy will not directly hit my business but for the sake of the local start-ups I am personally against this decision, which goes against the country."
The digital commerce policy is a direct contradiction to the Digital Bangladesh vision and national pro-FDI investment policy, according to Rahim. "This is negatively branding us before the world," he added.
The policy also means companies like Uber and Daraz that are fully foreign-owned will not be allowed to operate in Bangladesh under their current shareholding structure.
"Since Daraz is owned by Alibaba Group, this matter is now subject to discussion at both the local and group board meetings," Shayantani Twisha, the company's spokesperson, told The Daily Star. Daraz has formed a working committee to find a workable solution to the issue, she added.
However, some local entrepreneurs are welcoming the government decision as it will help the local market to grow organically.
The government should not accept that foreign companies import their products from cheap sources and destroy the local market and ecosystem, said AKM Fahim Mashroor, CEO of AjkerDeal.com, a local e-commerce venture.
"They have a responsibility to the local companies and they have carried that out nicely," he added.
Rather than foreign investment, Mashroor deems technology neutrality to be more vital for the e-commerce sector's growth as 90 percent of the consumers access the internet from their mobile phones.
Tech neutrality allows mobile operators to offer any service -- be it 2G, 3G or 4G -- with their frequencies, which would lead to better network quality.
Rahim, however, disagrees with the views of Mashroor, also the CEO and co-founder of bdjobs.com that has Australian SEEK International as the majority shareholder.
"We have successfully started the slow and painful process of killing our very nascent tech ecosystem and the saddest part is that most people do not even realise it and are actually celebrating thinking that this is a big win for us local tech companies," Rahim said.
ICT Minister Mustafa Jabbar is on board with the new policy, which is now waiting to be implemented by the commerce ministry.
"What we can do is ask the commerce ministry to comply with the policy as early as possible and ask the foreign entities to transfer their shares to locals," he added.
The e-commerce Association currently has 715 members. In addition, there are 1,000 e-commerce-based sites and 10,000 Facebook pages that run online businesses. The e-commerce sector's market value is more than Tk 1,000 crore a year.
The government took steps to design a separate policy for e-commerce in 2016.