Taming coronavirus rampage
Earning from leftovers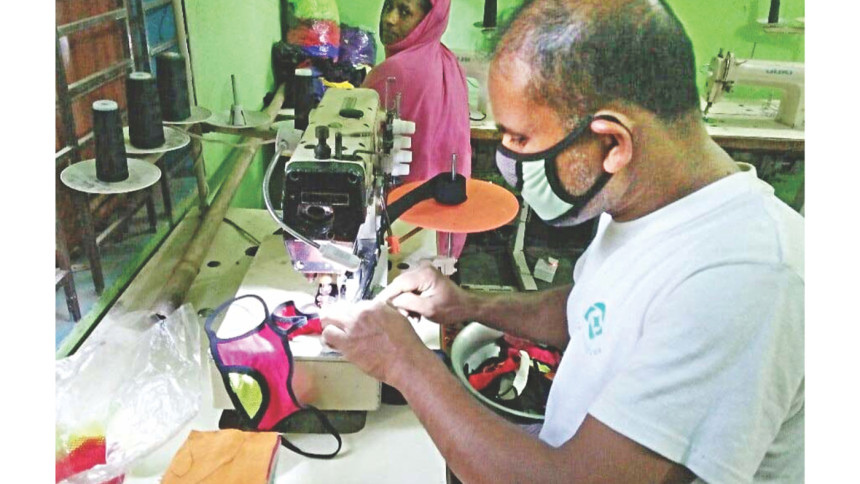 Md Rafiq Miah had like everyone else suspended operations at his home-based garments production workstation in Tangail's Mirzapur following recent government directives on containing the novel coronavirus.
Unwilling to sit back and wait for normalcy to return, he figured out that he could turn the odd pieces of leftover cloth lying around his workspace into face masks, which was in high demand.
Using two of his sewing machines, Rafiq and his wife Nasrin Begum are now making around 100 face masks every day.
These are being wholesaled at Tk 7 while retailed at Tk 10 to nearby shopkeepers and hawkers to meet local demand.
The father of three dropped out of school after studying up to class V due to financial insolvency. He had worked in garment factories since 1990 but quit around two years ago.
Returning to his Agchhawali village under Mohera union, he set up 12 sewing machines in his house and employed women in his locality to make clothes for women and children.
The 50-year-old buys rolls of cloth from markets in Narsingdi and Gazipur to make around 200 clothes every week, which he sells at the weekly market in Karatia of Tangail sadar upazila.
"I closed my small factory on the third week of March. The women and girls who work at my factory also left. I learnt about a crisis of face masks in the markets and that it was selling at a high price," Rafiq said.
He then started thinking of making face masks with the cloths that remain in his factory. "Making face masks is not our job, but we are producing it to adjust with the current situation," he said.
"I, however, am happy to supply my face masks to people at low prices amidst this crisis," he added.
Dulal Hossain of adjacent Korail village, one of Rafiq's customers, says other local shops and markets were selling similar face masks at Tk 20 to Tk 30.
Rafiq's wife Nasrin said, "I had also worked at a garment factory. Later, I started working with my husband after he set up the small factory inside the house."