Displaced workers of three sectors to get cash assistance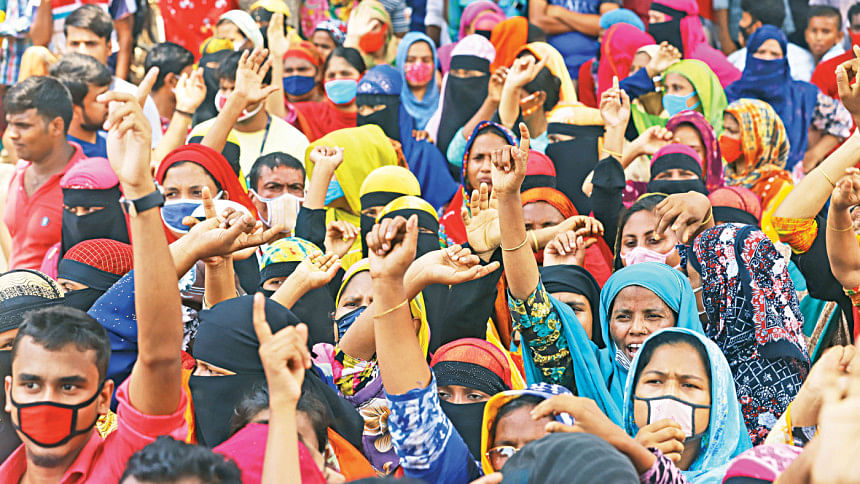 The workers who lost their jobs due to the Covid-19 fallout across three sectors -- garments, leather and footwear -- are about to finally receive Tk 3,000 per month as financial assistance.
In the first phase, 1,794 people will get cash assistance of Tk 3,000 each month for a three-month period starting from September.
Begum Mannujan Sufian, state minister for labour and employment, inaugurated the social security programme for unemployed and hardworking workers in export-oriented garments, leather products and footwear at Shrama Bhaban in the capital's Bijoy Nagar area yesterday.
The grants are being financed by Germany and the EU.
The workers of export-oriented factories, which closed down, received financial assistance from this package and so the labour and employment ministry has sent a list of unemployed workers of the industrial units in these sectors for the grant as well.
According to the ministry, it submitted a list of 7,390 workers, of which 1,894 have been finalised, while selections are going on among the rest.
"But in the meantime, the financial aid meant for workers that have been made redundant by the current situation will continue to remain idle," Sufian said.
The government aims to disburse Tk 3,000 per month for a three-month period to about 10 lakh workers over the next two fiscal years, according to last week's circular from the labour and employment ministry.
Beneficiaries will receive the funds directly through mobile financial services or their bank accounts, he added.
Any worker, including lactating mothers, who were employed in any active member factory of the Bangladesh Garment Manufacturers and Exporters Association (BGMEA), Bangladesh Knitwear Manufacturers and Exporters Association (BKMEA), Leathergoods and Footwear Manufacturers and Exporters Association of Bangladesh (LFMEAB) and Bangladesh Finished Leather, Leathergoods and Footwear Manufacturers and Exporters Association (BFLLFEA) up until February this year are eligible for the grant.
The state minister went on to say that the total number of beneficiaries will increase in time.
She also hoped for more international organisations to come forward and cooperate with the government to provide support for workers in all sectors.
Factories can submit a list of eligible workers in a structured management information system format to the BGMEA, which can then forward it to the labour ministry and the Department of Inspection for Factories and Establishment (DIFE).
The government might extend this service beyond its time limit for social safety net purposes if it is noticed that the workers could not return to their jobs and on the basis of the availability of funds from the government exchequer and donor agencies.
So, the government also called for increased donations from donor agencies.
Many workers lost their jobs due to the two-month nationwide shutdown between March 26 and May 30 while others were laid-off for a lack of work orders from international retailers and brands amid the Covid-19 fallout, which has severely jolted the global economy.
Millions of workers at the corporate level, mills and factories lost their jobs because of the pandemic and neither the country's workers, exports, imports or corporations were immune to the economic fallouts.
As a result, a good number of workers lost their jobs. Of those recently unemployed, some may get jobs in another factory but not at substantial rates, according to industry insiders.
However, many workers who could not complete a one-year tenure in their position will still be allowed to avail the fund.
Presided over by AKM Mizanur Rahman, director general of the directorate of labour, the programme was also addressed by Begum Shamsu Nahar, a lawmaker; KM Abdus Salam, secretary for labour and employment; Constanza Zaehringer, charge de affairs of the German embassy, and Maurizio Cian, head of cooperation of the delegation of the European Union.