Country's deepest channel dredged at Payra Port
Now larger mother vessels can unload goods directly at port jetty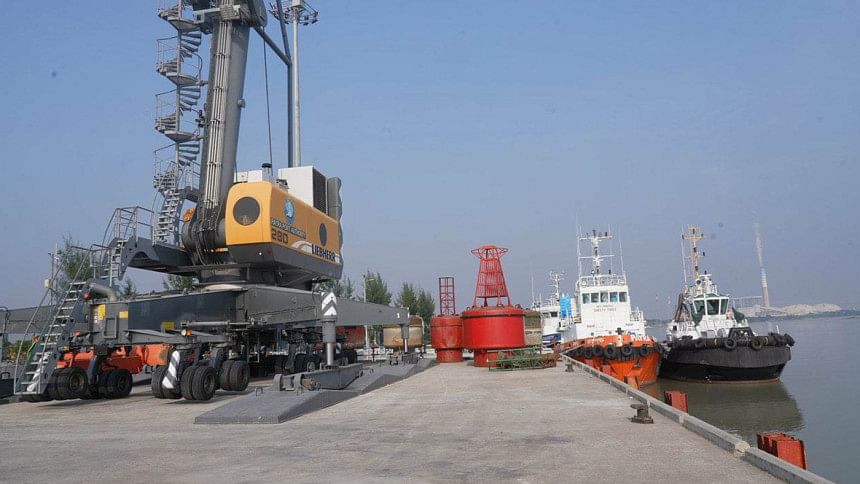 Larger mother vessels will be able to unload goods directly at the jetty of Payra Port as the dredging of the country's deepest channel has already been completed at the seaport.
Today, Belgian contractor Jan De Nul handed over the channel to the port authority after completion of the excavation work of the 10.5-metre depth channel.  
Payra Port Chairman Rear Admiral Mohammad Sohail said mother vessels would now be able to unload goods directly at the port jetty without the help of lighter vessels. 
So far, ships with a 9.50m depth can arrive at Chattogram port. 
From now on, ships with a 10.5m depth, 225m length and 30m width will be able to come to the jetty of Payra Port directly, Sohail said.
The capital dredging project, which cost Tk 6,500 crore, started in January 2021. 
Although the capital dredging of the channel has been finished, the maintenance work is now going on to maintain the navigability of the channel. The maintenance work will continue until April 2024.
A ship carrying 60,000 tonnes of coal is expected to arrive at the port from Indonesia within two days. Besides, seven more ships will arrive this week, according to the port chairman.
Prime Minister Sheikh Hasina is expected to inaugurate the full operation of the port after the completion of the whole work of the first terminal on the Ramnabad channel.