China offers $2.13b fresh loans for two projects
Agreements by June next year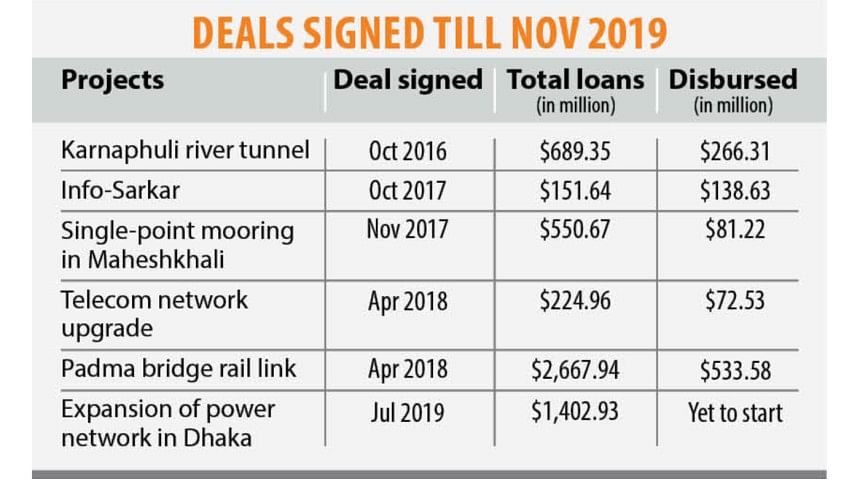 China will sign agreements by next June to provide $2.13 billion in loans for two more projects, including one on the construction of the Dhaka-Ashulia elevated expressway. 
This was finalised at the maiden meeting of a Bangladesh-China joint working group at the auditorium of the National Economic Council yesterday, said a finance ministry official.
The joint working group was formed to probe slow progress of 27 projects involving around $20 billion that China had agreed to provide during its President Xi Jinping's Dhaka visit in October 2016.
Until November, loan agreements -- which is the last step before the release of funds -- for six projects involving $5.71 billion were signed and $1.09 billion was disbursed.
Later the group incorporated a new agenda centring Beijing's interest in investment and trade.
Han Yong, deputy director general of China's commerce ministry, led a 30-member delegation while Md Shahriar Kader Siddiky, joint secretary to the Economic Relations Division, headed the Bangladesh side at the meeting.
Another meeting was held at The Westin Dhaka yesterday exclusively for the visiting Chinese delegation on investment facilities in Bangladesh and public private partnership projects.
Bangladesh Economic Zones Authority, Bangladesh Investment Development Authority, and Public Private Partnership Authority Bangladesh delivered presentations in this regard.
The finance ministry official said China confirmed that it would sign deals within this fiscal year to finance two projects.
One involves $1.15 billion over the construction of the Dhaka-Ashulia elevated expressway while the other $970 million for strengthening the Power Grid Company of Bangladesh's power grid network.
Another meeting will be held with the visiting officials of the Exim Bank of China today when the two projects will be discussed in detail alongside the ongoing ones. 
Another top-level finance ministry official told The Daily Star that the joint working group's first meeting was being considered to be fruitful as the upcoming agreements would take this fiscal year's loan commitment to $3.52 billion.
Meanwhile, during Prime Minister Sheikh Hasina's tour of China in July this year, loan agreements involving $1.4 billion were signed to expand and strengthen the power supply network under Dhaka Power Distribution Company. "Whatever the amount China has released thus far is a big step when viewed from a historical perspective. They always made negligible donations and their assistance was mostly in the form of cheaper contracts," the finance ministry official said.
He said if the last three years since 2017 were compared, around $2 billion was committed on an average each year, which was in line with what the multilateral lenders do.
The official said the projects used to be scrutinised at two tiers earlier, by the Chinese ministry of commerce and Exim Bank of China, but now it is done at four tiers, including the Chinese embassy in Dhaka and a third party in China. China now wants to explore ways so that its companies can invest in projects of the Bangladesh government and sought to know of facilities that will be provided to Chinese companies to attract such funds, the official said.
The Chinese side also talked about expanding cooperation for the rapid implementation of a special industrial park, where their nationals would invest in different sectors. The official said China showed interest in public-private partnership projects, in which Chinese companies would be able to invest and their nationals get employment.