He lived and built quietly. But his legacy will reverberate for eternity.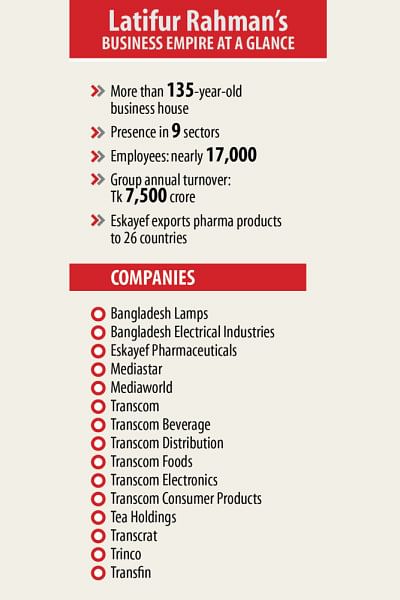 What makes an entrepreneur absolutely unique from the myriads of others?
The list of answers could be long and vary from person to person in today's business world.
But if you ask anyone looking for a job or an employee about the most cherished quality of an employer, he or she is most likely to give a simple answer: one who provides a healthy working environment, values skills, respects and promotes integrity, and keeps employees ensured that they will get their salaries and other benefits regularly.
And this is what Latifur Rahman, who built and steered an empire of diversified businesses ranging from lightings to food, medicine to media, believed in: happy employees and their families.
In a conversation with two journalists of this newspaper, he shared the view responding to the question of why Transcom is not so visible in corporate social responsibility activities.
In a country where the issue of job and salary security has been a major concern for job seekers and jobholders, Transcom Group, an employer of nearly 17,000 persons, stands tall thanks to Rahman's high principles.
And the torch bearer left for eternity at the age of 75 yesterday, coincidentally on the same day his grandson Faraaz Ayaaz Hossain was cruelly taken away by a band of Islamist terrorists.
But Rahman's legacy remains firm and solid in the landscape of ethical entrepreneurship and the growth story of Bangladesh.
"I am really devastated by this loss," said a sad Anis Ud Dowla, chairman of ACI Group.
Dowla and Rahman worked together in the Metropolitan Chamber of Commerce and Industry (MCCI).
"He had great vision. We have a lost great leader. We have lost a fine gentleman."
For him, Rahman did clean business and he had been transparent. He was the choicest entrepreneurs in Bangladesh for foreign investments.
"He had an international outlook. And his reputation and image were good. He was very sophisticated and clean," Dowla added.
Taking the steering of business after the independence of the nation, Rahman gradually took Transcom to a diversified arena by adhering to ethical and responsible business.
Today, Transcom has 16 operational entities from medicine, foods, lighting, electronics to media. It is the local business partner of international brands Pizza Hut, KFC, PepsiCo and Philips.
Having an annual turnover of Tk 7,500 crore, Transcom Group is one of the highest of corporate tax and VAT payers in Bangladesh.
And because of its ethical business practices, several companies of Transcom Group were also recognised by the revenue authority by tax card as top taxpayers.
Mediaworld, Mediastar and Transcraft -- the three owning companies of The Daily Star, Prothom Alo, their printer Transcraft -- were recognised as the top taxpayers in the media category for the fourth straight year in fiscal 2018-19.
"What a fantastic empire he has built up. All these things are his creation," Dowla said.
Rahman was also recognised by the National Board of Revenue (NBR) as one of the top taxpayers in fiscal 2015-16. He again made the list of top taxpayers in Dhaka city.
He was an entrepreneur of the highest ethical standard and always tried to ensure that the state gets the due amount of tax, said Syed Aminul Karim, a former member of income tax of NBR.
"He maintained ethics and transparency. He is one of the few entrepreneurs who helped the country to advance. He showed that it is possible to do business here and take the nation forward by maintaining a high ethical standard," he added.
Field officials would get all accurate information whenever they examined any of Rahman's company transactions, said a senior official of the NBR's VAT department preferring anonymity as he is not authorised to speak with media.
In fact, Transcom employees would attest to Rahman's resolute record-keeping of transactions. No receipt was ever discarded.
"It may be that total employment created by Transcom is less than some others, but its contribution to revenue is high very," the tax official added.
These most admirable qualities also caught global attention.
In 2012, Rahman was awarded by Oslo-based Business for Peace Award in 2012 as a mark of his highest distinction for outstanding accomplishments in the area of ethical business -- a rare quality in a country where unethical practices, tax and VAT evasion, loan scams, substandard product selling are rampant.
"His dealing with the banks were perfect. There was no default -- absolutely no default. He met his obligations to his banks as and when they became due," said Anis A Khan, former chairman of the Association of Bankers Bangladesh, attested to that.
As a leader, Rahman led the MCCI and was the vice-president of International Chamber of Commerce Bangladesh.
"His contribution to Bangladesh's business is showing that what foreign companies can do, we can also do and do it better," he said citing the manufacturing of COVID-19 drug Remdesivir by Eskayef as a case in point.
This virtue is visibly exemplified in what Transcom Electronics (previously Philips Bangladesh) and Eskayef Pharmaceuticals have become today: world-class.
Under his leadership, Transcom acquired SmithKline & French SK&F in Bangladesh in 1990 and the company was renamed as Eskayef Pharmaceutical.
"The example he has set in taking over and setting up new industries should remain as an example for young entrepreneurs."
Besides, the group of industries allowed young graduates of the country to have gainful employment, said Khan, also the vice-president of MCCI.
Rahman was the ideal businessman, said AK Azad, former president of the Federation of Bangladesh Chambers of Commerce and Industry.
His story of ethical business would be an inspiration for young entrepreneurs. He has a huge contribution to the economy and in employment creation.
"We learned a lot from an entrepreneur and elderly brother like him. We do not think we will have another Latifur Rahman anytime soon. His demise is a loss of the country," Azad added.
Recalling his memories of working with Rahman when he was leading the MCCI, Mostafa Abid Khan, member of Bangladesh Trade and Tariff Commission, said he had the qualities to solve the problems of members.
"He was a very polite man. He heard everyone's views carefully before sharing his own," he added.
Rahman was an asset to Bangladesh, said AF Nesaruddin, a partner of Hoda Vasi Chowdhury & Co., a chartered accountancy firm.
"He was the most genuine and respected business personality in Bangladesh," said Faisal Hussain, general manager of Transcom.
And even though Transcom is a family-owned house, the group introduced the corporate culture and allowed executives to flourish and take the operational decision themselves.
"He always introduced us to others as colleagues," said Md Kamrul Hassan, executive director for finance at Transcom Group, who has been with Transcom for 30 years.
More than 50 percent of the employees have begun and ended their jobs at Transcom, said Habibur Rahman Mollah, who served as the chief operating officer of Transcom.
"It offered a peaceful life."
Rahman believed that one would be rewarded if he or she worked transparently and with integrity.
He also had a diktat for his companies: no compromise on quality at any cost.
"Quality gets priority over profit," said Mollah, who retired after 20 years with Transcom.
Today, the employees of Transcom that Rahman has made a household name are mourning the demise of their most compassionate and conscientious employer.