Amusement parks continue struggle against Covid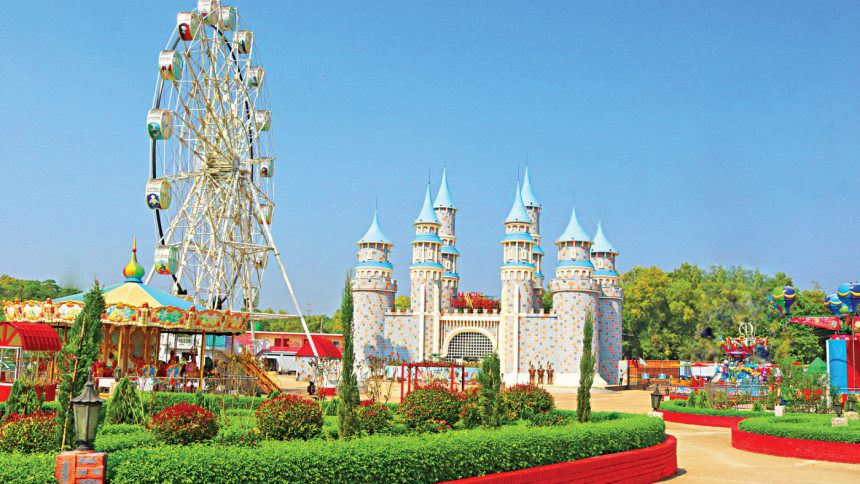 The amusement park industry is on the brink of collapse as owners are struggling to pay salaries, bank loans and hefty maintenance costs amid an ongoing closure that began in April due to the recent resurgence of Covid-19.
The industry's plight initially began in March last year, when the coronavirus pandemic first began to spread across the country, prompting the government to shut down all tourist and entertainment centres for nearly four months.
Although they eventually reopened, the number of daily visitors plummeted by more than 50 per cent as people had become aware of their spending during the crisis while fear of infection also played a part.
And with the latest lockdown that began on April 14 this year, many employees have not received their full salaries.
As a result, many staffers left the industry in search of other professions while those that remain are working on a rotational basis, according to industry insiders.
"We are now in a dire situation," said GM Mustafizur Rahman, owner of Wonderland Group, which owns 11 parks across Bangladesh and employs about 3,500 people.
Rahman, who pioneered children's amusement in the country by establishing Shyamoli Shishu Mela in 1990, said he had to shut down two of his parks due to heavy losses amid the pandemic.
The Bangladesh Association of Amusement Parks and Attractions (BAAPA) currently has over 280 members, dozens of whom went out of business in the face of continued losses due to Covid-19.
Considering the situation, Rahman urged the government to allow parks to reopen.
"We can provide our services while maintaining health rules as we mainly operate in open air and spacious locations," he said.
Similarly, Anup Kumar Sarkar, executive director of the Concord Group of Companies, which operates Fantasy Kingdom and Foy's Lake through Concord Entertainment, said that they would ensure every safety measure so that people can enjoy the parks without concern.
Fantasy Kingdom, which hosted 2,000 visitors daily on average during the pre-pandemic period, has been losing an estimated Tk 10 lakh each day in absence of ticket and food sales.
Besides, park maintenance offers some unique challenges as the equipment requires constant care, which is very expensive.
"If the rides with complex machinery remain idle, they get damaged permanently," Sarkar added.
The BAAPA has already developed a standard operating procedure (SOP) to reopen the parks with the number of daily visitors to be halved to ensure safety.
"The main challenge is now paying the salaries of employees," said Tushar Bin Yousuf, chief executive officer of Nandan Park.
Launched in 2003, the popular park has been closed since April 1 amid the second wave of the pandemic and currently employs about 250 people.
On a normal day, it would host upwards of 2,000 visitors with an average invoice value of more than Tk 500 per person.
The main income of the amusement park comes from visitors during the two Eid festivities but that did not happen in the past three Eid due to Covid-19, Yousuf said.
Alimul Islam, chief operating officer of Magic Paradise Park in Cumilla, said words cannot explain the disastrous time they are passing.
"Although the park is closed, our costs do not stop. The monthly operating cost of our park and the salary of the staff of 150 people is about Tk 25 lakh," he added.
Dinajpur's Swapnapuri, one of the oldest private amusement parks in Bangladesh, has been struggling to pay the salaries of its staff since March last year.
"I had to cut 35 staff as the maintenance cost of our park is around Tk 16 lakh per month," said its Managing Director Delwar Hossain.
SM Kamal, managing director of Vinnya Jagat Amusement Park in Rangpur, said they have been trying to reopen for some time now but have yet to get any kind of green signal from the government.
Although the park is closed, it has an operating cost of Tk 18 lakh per month.
Prabir Kumar Shaha, managing director of the Dream Holiday Park in Narsingdi, said it is very tough to pay back loan instalments in such a situation.
The park was opened in 2012 and currently employs about 300 people with a previous daily footfall of 1,000.
The government charges 7.5 per cent VAT on ticket sales and 15 per cent VAT on food.
Against this backdrop, the BAAPA demanded VAT and tax rebates for three years, the opportunity to import rides and other machinery without VAT and a stimulus package so that the industry can survive.