19 firms to invest Tk 650cr in pharma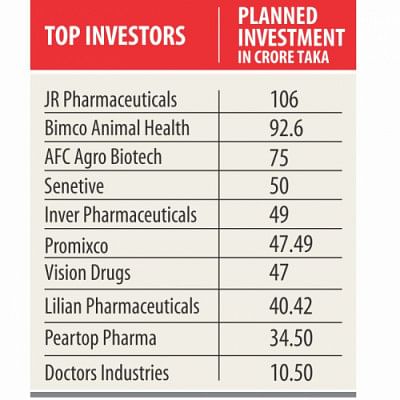 The pharmaceuticals industry is gearing up to expand as 19 companies have got the go-ahead in the last one year to set up facilities at a combined investment of around Tk 654.82 crore.
The entry of these new companies will boost competition as there are already more than 200 manufacturers in operations to grab shares in the local market worth around Tk 25,000 crore.
Most of the 19 companies have completed setting up their facilities and they will start operations within the next one and a half years, said Major General Md Mustafizur Rahman, director general of the Directorate General of Drug Administration (DGDA).
The move will create a lot of job opportunities, industry insiders say.
JR Pharmaceuticals, the biggest among the investors, will invest Tk 106 crore to produce different drugs, including antibiotics, anti-ulcer drugs, antihistamines, antivirals, antifungals, vitamin and mineral supplements, anti-diabetics, eye drops, inhalers, oral rehydration salts, and oral liquids.
AFC Agro Biotech will spend Tk 75 crore to produce advanced drugs used in organ transplants.
A senior official of AFC Agro says it would also be going into making an active pharmaceutical ingredient plant to manufacture raw materials for the industry.
AFC Agro will basically supply raw materials to local manufacturers to help keep the prices of drugs to a reasonable level, the official said.
Another in the list is Promixco Ltd, which is all set to inject Tk 47.49 crore to manufacture medical furniture such as hospital beds, equipment for intensive care and diagnostic units, nebulisers, incubators and suction machines.
One company, UniMed UniHealth, which has been in the drug-making business since 1997, will be investing Tk 10 crore to branch out into herbal medicine.
The gradual rise in demand has encouraged UniMed to go for producing herbal medicines, said Nazmul Hossain, deputy managing director of the company. Local companies now produce high quality drugs in Bangladesh, he said.
He also spoke highly of the DGDA, saying its testing process is "really efficient". No drug is allowed even to be produced, let alone be released in the market, if the directorate is unsure of its standard, Hossain said.
Most of the renowned pharmaceutical companies, including Square Pharmaceuticals, ACI, Acme Laboratories, Renata and Incepta Pharmaceuticals, already have such products, he said. "If the DGDA hands over the certificate, we will immediately go into production."
Developed countries are no longer interested in manufacturing generic products as they are labour-intensive and less profitable, said the director general of the DGDA.
The DGDA always encourages manufacturers to increase investment and produce high quality products, he said.
"That is why we try to approve proposals for investment on new products and business expansion as early as possible," Rahman said. "I am very optimistic about the future of the sector as it is thriving fast."
Of around 200 pharmaceuticals companies, the top 10 hold nearly 70 percent of the market share.
Presently, the industry meets 98 percent of the local demand and exports to more than 150 countries. However, some complicated patented drugs, particularly in oncology, need to be imported.