Monthly exports hit record
Shipments reached $3.2b in Dec -- the highest monthly earnings in the history of Bangladesh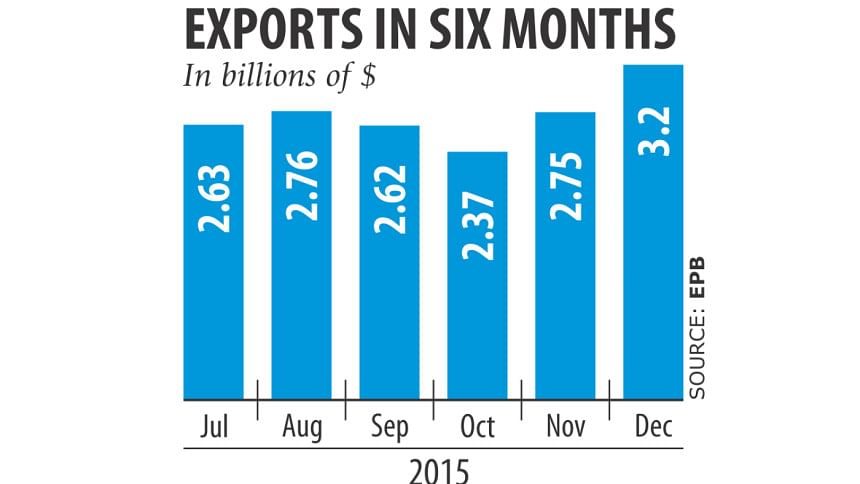 Exports raked in $3.2 billion in December last year, which is the highest export earning in a month in the history of Bangladesh.
Increased shipments of garments, jute and leather products account for the record export earnings.
December's figure is an increase of 12.66 percent from the previous year. It also exceeded the target for the month by 7.31 percent, according to data from the Export Promotion Bureau.
Garment exports have been increasing in the last few months thanks to political stability, said Faruque Hassan, vice-president of Bangladesh Garment Manufacturers and Exporters Association.
Garment exports in December were $2.67 billion, the highest monthly earnings in 2015.
Exports will continue to soar if political stability prevails in Bangladesh, according to Hassan.
A number of positive developments took place last year, including the completion of inspection of export-oriented factories, he said.
The year 2015 ended with spectacular double-digit growth trend, Hassan said.
Full-year garment exports rose 8.21 percent to $26.6 billion in 2015, compared to the previous year, he said.
The leather products and footwear, bicycle, jute and jute goods, home textile, terry towel have also performed well in the July-December period of last year.
Overall, exports rose 7.84 percent year-on-year to $16.8 billion in the July-December period and it also crossed the target by 1.38 percent in the period, according to government data.