MasterCard expands financial literacy project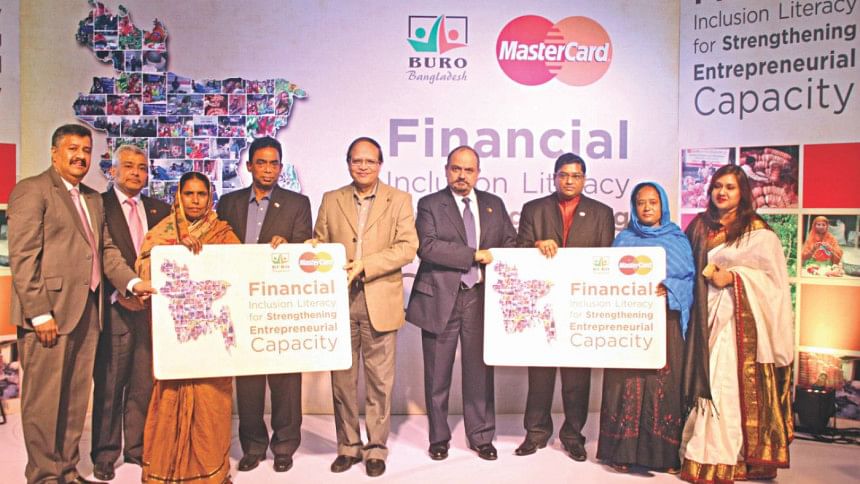 MasterCard yesterday launched the third phase of its financial literacy programme in collaboration with BURO Bangladesh and Bangladesh Bank, to train an additional 25,000 women this year, taking the total to 135,000 since 2013.
The project is part of MasterCard's global focus on harnessing entrepreneurship in women and children.
It offers training to ensure an efficient use of microfinance loans for women entrepreneurs nationwide, the company said in a statement yesterday.
MasterCard launched the first phase of the business literacy programme in 2013 to mark the opening of its first office in Bangladesh, and the second phase in 2015.
The programme has so far provided more than 100,000 entrepreneurs and 10-taka accountholders with financial literacy training and business skills, according to the statement.
"I would like to commend MasterCard and BURO Bangladesh on this long-term project which is now entering into its third phase," said Atiur Rahman, governor of Bangladesh Bank, who inaugurated the programme.
"It will provide these entrepreneurs with not just the skills but also the confidence to start their own businesses. I think this programme will succeed in bridging the gap by allowing them to create self-employment."
"In Asia Pacific, MasterCard aims to provide entrepreneurial opportunities to more than 400,000 women and girls by 2020," said Porush Singh, division president for South Asia and country corporate officer of MasterCard.
"We are proud to have more than a quarter of that goal coming from the work with our partners in Bangladesh,"
"The training will equip participants with the knowledge and skills to create their own opportunities and pursue their dreams, resulting in long-term benefits, not just for themselves, but also their families and society at large."
Vikas Varma, executive director for South Asia at MasterCard; Syed Mohammad Kamal, MasterCard's country manager for Bangladesh, and Zakir Hossain, executive director of BURO Bangladesh, were also present.