Local pharma market set to hit $5.11b by 2023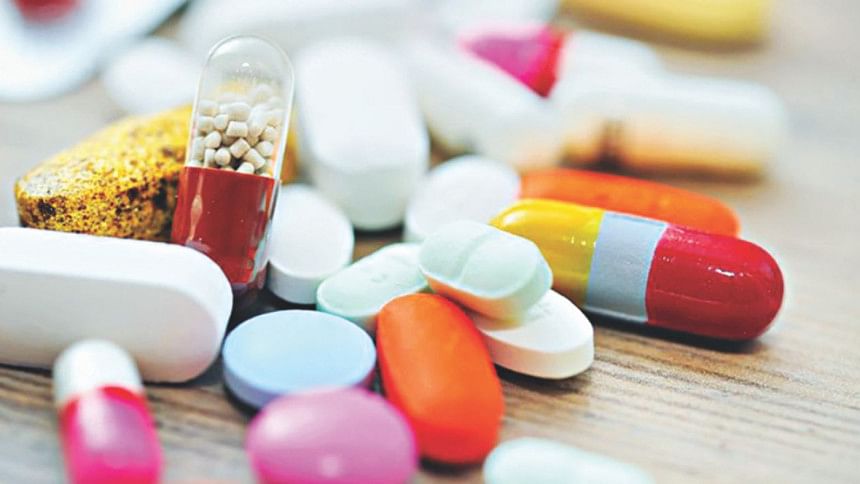 Bangladesh's pharmaceuticals sector will grow 15 percent year-on-year to reach $5.11 billion by 2023, propelled by high investments by local companies as they seek to grab a bigger share of the global market, said a new study yesterday.
By 2022, the market size will be more than doubled to $4.44 billion from $2.02 billion now, it said.
"Bangladesh will soon become a major global hub for high quality and low-cost generic medicine and vaccine," said Abdul Muktadir, chairman and managing director of Incepta, a local medicine producer and exporter.
Bangladesh's pharmaceutical industries aim to capture 10 percent of the global generic market as 5 to 7 companies have received approval from top regulatory bodies, he said.
These include the UK's Medicines and Healthcare products Regulatory Agency and the United States Food and Drug Administration, he added.
Muktadir was presenting the keynote paper on "Pharmaceuticals: the next multi-billion dollar opportunity for Bangladesh" at a meeting of the American Chamber of Commerce in Bangladesh (AmCham) at The Westin Dhaka.
Bangladesh exports medicinal products to 144 countries after meeting 97 percent of the domestic demand. Pharmaceuticals exports fetched $103.46 million in the last fiscal year, up 16.03 percent year-on-year, according to the Export Promotion Bureau.
Currently, Bangladesh has the facilities for producing advanced medicine like active pharmaceuticals ingredients, biosimilars, vaccines, and oncology products alongside medical devices.
Bangladesh has a surplus of pharmaceutical industry-focused human resources, Muktadir said, adding that the formulation industry is well-developed and investing heavily for future growth.
Bangladesh is capable of producing specialised delivery products like inhalers, pre-filled syringe injections, lyophilised injections, dry-powder inhaler and sustained-release formulations, he said.
The country has already developed production facilities for tablets, capsules, liquid preparations, dry suspension, injections, ointment/cream, nasal spray and granules in sachets.
In the first quarter of 2018, the market size of pharmaceutical products in Bangladesh was $2.35 billion and year-on-year growth rate was 8 percent. Per capita consumption of medicine was about $15.36.
Speaking as a panel discussant, Kazi M Aminul Islam, executive chairman of the Bangladesh Investment Development Authority, said Bangladesh needs to develop the knowledge and capacity to grab a bigger share of the global pharmaceutical market.
British pharmaceutical company GSK has shut down its production in Bangladesh because preparing Horlicks was commercially more viable than making medicine, he said.
M Mosaddek Hossain, managing director of UniMed & UniHealth Manufacturers Ltd, said if Bangladesh could produce and run an API park successfully, it would become more competitive in the global pharmaceuticals market.
"We also need to have competitive sourcing of raw materials," he said.
Nurul Islam, president of the AmCham, Farooq Sobhan, president of the Bangladesh Enterprise Institute, and Md Mustafizur Rahman, director general of the Directorate General of Drug Administration, also spoke.